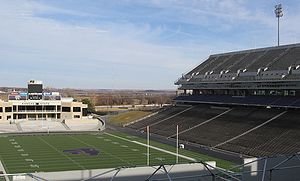 Kansas State University has unveiled a $75m plan to expand Bill Snyder Family Football Stadium in Manhattan, Kansas, US, home field of the university's football team.
The six-phase project will replace the stadium's 1960s-era facilities and the press box built in 1993, as well as adding concession areas, restrooms, luxury seating and an expanded ticket office. Kansas State University athletic director John Currie said the university had raised around a third of the money required to begin the project. Currie also noted that the university's goal is to start construction before the 2012 season and have the majority of the work completed in time for the 2013 season.
Designs for the new stadium, drawn up by AECOM with support from Heery Design, resemble Texas Tech's stadium in size and appearance. The new structure will be 250,000ft2 and include a Hall of Honour, 40 private suites, 36 club boxes and 800 club-level seats. Subsequently, the stadium will also add a new strength and conditioning centre, an entertainment pavilion and potential seating additions.
Kansas State University president Kirk Shulz said: "What we want here is a facility that's going to be first-rate in the country. It's going to represent Kansas State Wildcat Athletics well. It's going to help the university move forward and give that 'wow' factor when people first come onto campus."
Planning for the new stadium started about 18 months ago; the initial construction process will take place around the current press box structure. During first phase of the master plan, the new turf was laid in the stadium and construction of restrooms on the east-side upper concourse was completed last summer.
Image Caption: The six-phase expansion project will add concession areas, restrooms and an entertainment pavilion. Photo courtesy of Kgwo1972.