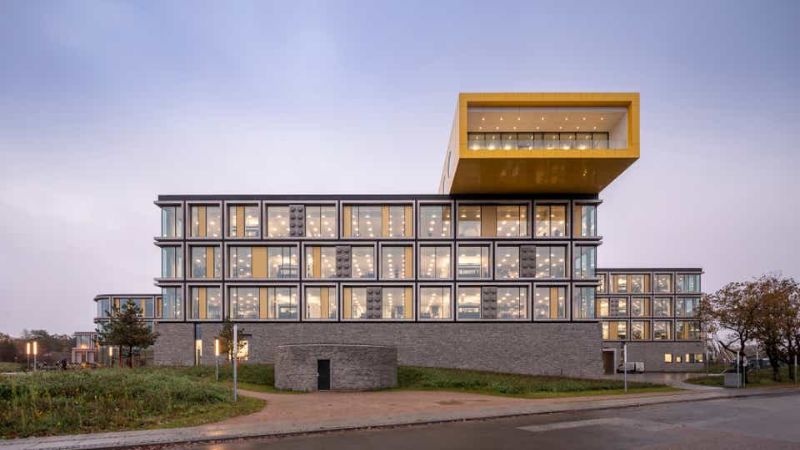 LEGO Group has opened the first phase of a new campus at its headquarters in Billund, Denmark. The construction is expected to be completed in 2021.
Architectural firm C.F. Møller Architects designed the 54,000m² campus, which is set to have more than 2,000 employees after completion.
The campus includes LEGO bricks in its exterior walls and two large bricks on the roof. Bricks have also been used to build the entryway.
LEGO Group CEO Niels Christiansen said: "It's wonderful to see these first two buildings open. The team has worked hard to create a workspace that reflects our values and instils a sense of fun.
"Our mission is to inspire children so it's important we provide our talented colleagues with an environment that is playful and inspires creativity and innovative thinking."
The company noted that 500 employees have moved into the new buildings. The campus consists of a total of eight buildings, which feature play areas, lounges and outdoor parks.
A parking garage near the campus has 4,150 solar panels on its roof to generate more than one million kilowatt-hours, which will meet 50% of the campus' energy needs.
Moreover, sedum plants are placed on the rooftops of the campus buildings to absorb water and carbon dioxide. The green parks in the campus area will be irrigated using rainwater.
Instead of standard materials, a stronger, special gypsum fibreboard material was used, reducing the steel framing while saving 22t of steel and 650t of carbon dioxide emissions.
Following the completion of the construction, the campus will include People House, which is a central area with an auditorium, an arts and crafts workshop, employee accommodation, café and fitness centre.