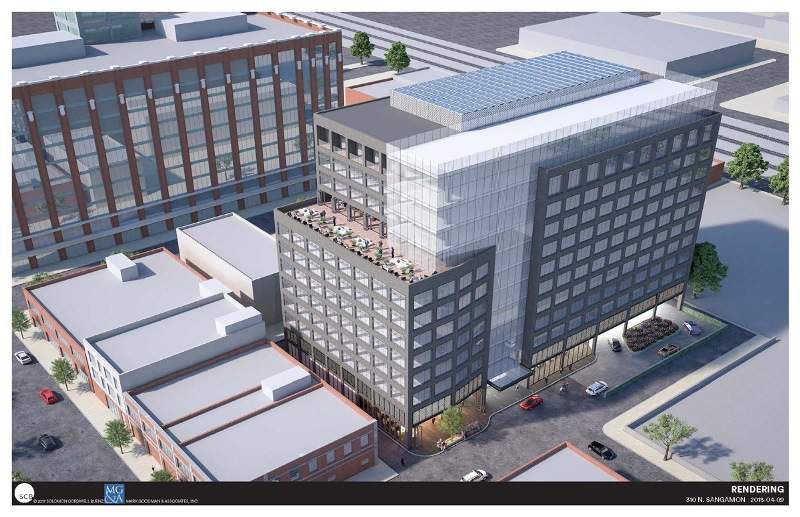 Mark Goodman & Associates has unveiled plans to build 310 N Sangamon, an office building to be constructed in accordance with Passive House standards, in Chicago, US.
The office building will feature 12 stories with 268,000ft² of office space and a 7,800ft²  ground-floor retail area.
Passive House buildings follow a set of design standards that align with building systems, insulations and windows to create an airtight structure, reducing ecological footprint while increasing energy efficiency.
Buildings with such standards can maintain the indoor temperature consistently throughout the year, irrespective of the weather, with little energy for heating or cooling required.
"This will be the largest office building on American soil to offer this type of energy efficiency."
According to the Passive House Institute US (PHIUS), structures adopting its standards use up to around 75% less heating and cooling energy than most buildings.
Chicago-based Mark Goodman & Associates president Mark Goodman said: "Chicago's business landscape is fast becoming a dynamic haven for entrepreneurial and creative industries and we're incredibly proud to lead the way in low-energy buildings that promise to become the next generation in office design of the future.
"While Passive House construction is big in Europe, this will be the largest office building on American soil to offer this type of energy efficiency."
The building will provide filtered, tempered 100% outdoor air through a ventilation system as a part of the Passive House standard and ventilation design.
The architect for the building is Chicago-based SCB.
Goodman added: "The interior spaces will have a sleek, modern design with low-volatile organic compound (VOC) finishes and furniture to avoid out‐gassing, which lowers air quality and may have short-term and long-term adverse health effects."
It features a loft building design that offers office space from the third to the 12th floor, with indoor parking space for 47 cars on the second floor.
It will also feature a fitness room, outdoor terrace and bike storage room.
The building is located three blocks away from the new CTA Morgan Station and is close to Google and McDonald's Midwest headquarters.