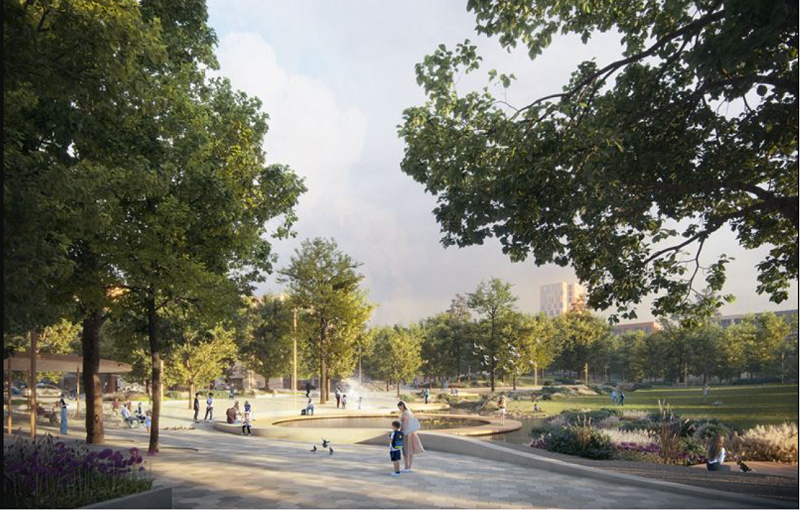 Architectural firm Arkitema's design concept has been chosen for the new neighbourhood park, Folkets kurva, in Victoria, a new district in Kungens Kurva, Stockholm, Sweden.
Arkitema's concept was chosen from among the three submitted design proposals.
This centrally located park will serve as a meeting place, and provide recreational and green spaces to residents and visitors.
Victoria Kungens Kurva, a company jointly owned by Fastighets AB Balder (Balder) and KF Fastigheter, was created to develop the future Victoria district in Kungens Kurva.
Construction of the future Victoria Kungens Kurva district project is planned to commence next year.

Following the completion of the project, the area will feature approximately 3,500 apartments, as well as nursery schools, a school, restaurants, care services, local services, and a park.
Along with Huddinge Municipality, the JV company has undertaken a parallel sketch assignment to create proposals for the design of the neighbourhood park.
Arkitema's proposal was chosen after the evaluation team felt it had additional architectural expression and quality.
Victoria Kungens Kurva managing director and Balder regional manager for property development David Johansson said: "All the proposals were of high quality, but the Folkets kurva concept is the one that we think best encapsulates the vision of Victoria. The new park will have many positive values, which will enrich the quality of life for the area's residents, and this is an important part of the work on creating a complete district."
As per the accepted design proposal, the park will feature four sections, with its more elegant part being open grass spaces, places for play, and a section for preserving terrain and vegetation.
The Folkets Kurva park will be multi-functional and accessible, giving scope for a large range of activities.
The park's natural watercourses will supplement the landscaped water mirror.
The proposal focuses on the safety aspect of the park, as well as featuring smart and well-planned lighting.
Arkitema business area manager Per Axelsson said: "We are very happy that Victoria Kungens Kurva and Huddinge Municipality have chosen our proposal. This park offers many possibilities to become a sort of 'living room' for residents and visitors while also offering exceptional aesthetic qualities. We look forward to rewarding cooperation in the future."
Huddinge Municipality head of urban planning Heléne Hill said: "Even from the start, a verdant neighbourhood park has been an important part of the design of the new district in Kungens Kurva. The design of the park is an important part of the work with the zoning plan."
The design concept for Folkets Kurva park will be further refined this year.
The work on Victoria's 18,000m² neighbourhood park is expected to commence next year, with planned completion by 2030.
Following the completion of work, the park will be handed over to Huddinge Municipality.