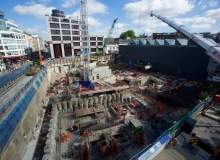 Construction projects are a city's lifeblood in many ways. From an economic standpoint, building works provide a steady source of employment up and down the supply chain, from the design firms and architects working on the initial plans through to logistics suppliers and on-site construction workers.
They are also vital socially, as new homes and built facilities – if planned well and with people in mind – are essential to maintain a city's sustainable growth while ensuring that the urban environment remains a desirable place to live, that families can grow and prosper, and that there are adequate transport links to connect residential, commercial and recreational spaces.
Tackling waste in the construction sector
Still, recognising the benefits of a thriving construction sector shouldn't preclude the discussion of its negative impacts. Waste material from construction projects in the UK takes up a massive proportion of the country's total waste; of the approximately 200 million tonnes of total waste generated by the UK in 2012, 50% originated from the construction sector, more than commercial and industrial activities (24%) and household waste (14%) combined. In the past especially, unacceptable proportions of the waste generated by construction projects have been new materials that were never used on site.
Industry veterans have noted that in the past, 60 million tonnes of the 400 million tonnes delivered to UK construction sites every year went straight to landfill due to over-ordering or poor storage.
As a result of some of these eye-watering statistics, significant attention has been paid in recent years, at both national and European levels, to managing the construction industry's waste. The UK has committed to a target of recovering at least 70% of non-hazardous construction waste by 2020, and has been handily meeting this target well in advance, sustaining a recovery rate of 86.5% in 2012.
"The British Government wants to achieve zero waste to landfill by 2020."
The British Government wants to achieve zero waste to landfill by 2020 under the Sustainable Construction Strategy 2008, and firms are receiving financial incentives and practical support to maximise the recycling of surplus construction materials, with guides such as the Net Waste Tool provided by the state-funded Waste & Resources Action Programme (WRAP) helping to identify strategies to improve performance on waste recycling and the potential cost savings involved.
So there is good progress being made, and the UK is steadily improving the performance of its construction sector when it comes to dealing with waste. But what is the key to taking these efforts to the next level of sustainability? The much-discussed 'circular economy' and emerging digital technologies could provide an answer.
Embracing the circular economy
Lydia Dutton, co-founder of start-up company Circology Ltd, agrees that impressive strides have been made in recent years to recycle construction waste and keep it out of landfill sites.
"Much of the narrative around waste management is achieving zero waste to landfill, which is a fantastic development, thanks significantly to the escalating landfill tax," Dutton says. "Huge successes have been achieved in segregation performance on development and demolition sites, led in large part to financial incentives for recycling and environmental guidance and standards such as WRAP and BREEAM [Building Research Establishment Environmental Assessment Method]. Materials and equipment are being designed for longer lifespans whilst buildings and refurbishment timelines get shorter."
Circology is taking forward a concept investigated during the 2014 UK Green Building Council Future Leaders programme, which the company will refine and improve with its in-development digital platform, dubbed LOOP. The technology fits neatly into the concept of the circular economy or 'sharing economy' – the idea being that waste and pollution from industrial processes can be minimised through better usage of resources, including finding new uses for waste or surplus assets. This is set in opposition to the traditional 'linear' economy, which operates under a simple 'take, make, dispose' model of production.
Circology was one of six start-ups awarded up to £30,000 in funding from Innovate UK in July as part of its IC Tomorrow competition, which rewards innovative companies contributing to the sharing economy. It was this award that gave Dutton and co-founder Terry Clarke the "endorsement and confidence" to establish Circology and develop the LOOP concept.
The start-up had a powerful partner for the competition in Crossrail, Europe's largest construction project, which has been invaluable both as a source of industry feedback – "It has unanimously been agreed in our consultations that a system such as LOOP is crucial for the industry to connect, in a timely manner, the supply and demand for materials" – and as a means for LOOP to be trialled in the future on real construction sites as the massive Crossrail endeavour begins to wind down and clean up after itself.
"The opportunity identified is that the industry can realise a higher value for the material assets in circulation throughout the built environment through an improved connection between supply and demand – Circology's online platform LOOP responds to this," says Clarke. "We propose that significant volumes of material sent for recycling are still functional and could be used again in current form if the supply chain were connected effectively. The adage, 'It's only waste if it's in the wrong place' is a key mantra of the Circology team!"
How does LOOP work?
The LOOP digital platform is still under construction and both Dutton and Clarke are hesitant to reveal a stone-clad timeline for its development and commercial launch; but Dutton explains the idea behind the technology.
"LOOP is a market-led solution to waste reduction and value realisation in the construction industry by enabling project components and materials to be valued in-situ prior to 'project end-of-life' and demobilisation," Dutton says. "Through the use of a materials passport and digital marketplace, a significant proportion of components of materials in existing building and civil project stock will be eligible for reuse, avoiding premature recycling, recovery or disposal."
LOOP, then, is a digital hub to connect construction projects with surplus material to other building sites that need those materials, and to facilitate on-site valuation. As Dutton notes, the tool will also enable the reallocation of new materials that aren't needed due to over-ordering, "whether this be an internal tool to connect a number of sites within a business, or broaden the sale of materials to those in the vicinity". The vision for LOOP is restricted to components that can be re-used directly without modification, such as steel and HVAC infrastructure, but the Circology team does point out that, with some creative thinking, alternative uses for some material could be found without major modifications, such as "the creation of unique architectural features".
"The adage, 'It's only waste if it's in the wrong place' is a key mantra of the Circology team."
But why re-use rather than maintain the focus on recycling? According to Circology, finding a way to re-use materials within the local construction sector rather than shipping them off to various facilities for sorting and reprocessing has environmental benefits as well as potential value-creation advantages for the builders involved.
"There are environmental benefits to material reuse rather than the recycling of reusable materials," says Clarke. "For example, a reduction in transportation and energy impacts as materials disposed of [via LOOP] will have a point-to-point transfer and direct re-use – or minimal modification – compared to recycling, typically taken locally to a sorting centre and then internationally as the collected materials are sent en-masse for reprocessing."
In essence, LOOP is about providing a convenient portal to connect supply and demand for excess construction material, as well as having the credibility to provide reassurance to construction purchasers who are used to buying everything new that re-using surplus components isn't a dangerous or sloppy shortcut.
"LOOP challenges this approach, making it simple and timely for sellers to prepare their listing through materials passports, and also providing confidence to buyers to incorporate LOOP into their procurement processes," Dutton concludes.
Whether it's Circology or another player that makes it happen, it seems like a positive step for the construction industry to change its mindset and acknowledge that from an environmental and economic point of view, brand new isn't always the gold standard.