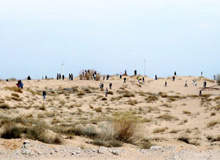 An undeveloped site on the Mongolian Steppes presents climatic, topological, and programmatic challenges for Rice and Astrid Lipka, principals of New York-based Lyn Rice Architects (LRA), but they aren't working alone: 99 other firms from five continents have the same assignment. A few days in a Holiday Inn near Ordos City alongside dozens of colleagues, all collaborating on Ai Weiwei's master plan to create a diverse arts-centred neighbourhood in a new city some 80 minutes west of Beijing by air, leaves Rice and Lipka with the distinct sense that their professional world is growing tighter.
Ordos 100 is an intriguing concept; a shared experience, an eye-catching media portfolio and 100 sets of design documents, soon to be converted into construction documents by local Chinese architects – itself a leap-of-faith. There are organisational hurdles to overcome before it can become a functioning community.
Those who have invested their time and thought in the project, however, show a consistent optimism for Ai's vision, Herzog & de Meuron's high-level professional network, and developer Cai Jiang's commitment to completing the project.
If construction proceeds as planned, with all 100 houses being built during 2009 and into 2010 (the relatively short local construction season makes a two-stage, two-year process likely), this quirky exposition could become a residential model that others decide to emulate. There are good reasons for the architecture world to keep an eye on what happens in Ordos City.
Shifting sand
When two cohorts of architects arrived last winter and spring, the site was barren, a snowy wasteland to the first group and a dustbowl to the second. The remoteness and harshness of the Ordos 100 site, however, does not mean it exists in a vacuum. It's part of the wider Ordos Project, the Jiang Yuan Cultural Creative Industries Park, a 4.5bn-renminbi endeavour that is shifting the city's centre of gravity 30km away from its original location and steering its swift development toward culture as well as mining and manufacturing.
How well do you really know your competitors?
Access the most comprehensive Company Profiles on the market, powered by GlobalData. Save hours of research. Gain competitive edge.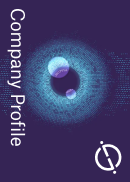 Company Profile – free sample
Thank you!
Your download email will arrive shortly
Not ready to buy yet? Download a free sample
We are confident about the unique quality of our Company Profiles. However, we want you to make the most beneficial decision for your business, so we offer a free sample that you can download by submitting the below form
By GlobalData
The plan is ambitious and observers agree enthusiastically that Ordos, old and new cities alike, badly needs it. Its current built environment, to put it discreetly, is not the strongest expression of the vibrant, proud Mongolian culture.
"Ordos 100 is part of the wider Ordos Project."
Simon Conder, principal of Simon Conder Associates at London's Nile Street Studios speaks more bluntly of the area's shortcomings: "Before Ai Weiwei came, the concept [was] about as stupid and bad as you could possibly imagine. It's a mixture of 1950s suburban cities and Stalinist Russian planning."
The city's salient structural features are the Genghis Khan Mausoleum and numerous large statues of Khan; LRA's Lipka reports that local legends describe the 13th-century Mongol emperor loving the landscape so much that he wanted to be buried there.
Cai originally approached Herzog & de Meuron about the project. Then, instead of taking on the design work itself, the Swiss practice assembled a list of 100 young firms worldwide, many of whom had no realised projects to date, and invited them to take part.
The master plan by Ai's atelier FAKE Design offers each architect a brief simple enough to create a challenging level of design freedom, particularly for firms that usually thrive on working within constraints. Largely using recommended local materials, they were to design two or three-storey houses along with a set of specified amenities: a swimming pool, study, media room, wine cellar, and one oddity for a nation whose governing political party is, officially at least, communist: servants' quarters.
Ai and the client representatives frowned on designs drawing too explicitly on nomadic-era Mongolia's traditional building typologies, the tent and the yurt. Most, but not all, complied. Villa 006 by Cambridge, Massachusetts, firm MOS and villa 100 by Mierta and Kurt Lazzarini of Samedan, Switzerland, for example, designed angular, asymmetrical variations on the yurt's radial form.
A Chinese idiom, the courtyard house or siheyuan, proved resilient. Wide temperature variation, high winds, and dust storms make protection of interior living space a high priority in this area. For New York's Slade Architects, a courtyard is also a practical way to balance what they viewed as the essential contrasting programme elements, a 'tension between introversion and extroversion' in a living space that is also a design showcase.
"FAKE and Weiwei had designed this so that each house was surrounded by a path, so clearly every object was meant to be viewed from the full 360°," says James Slade.
"The Ordos 100 master plan by Ai's atelier FAKE Design offers each architect a simple brief."
His Stack House (villa 031) plays with perspectives so that a volume looks nearly bladelike from some angles, billboard-flat from others, and fully three-dimensional from others. To co-principal Hayes Slade, the formal logic deserves more attention than the connection to national idioms: "We definitely looked at the traditional Chinese house as a model, a precedent: it was appropriate, but not the goal. Many cultures that have courtyards; they're not uniquely Chinese."
Bricks and water
"I come from a country made of brickwork," Conder says, "I've been in practice over 20 years, and I've never designed a brick building before. We have become, suddenly, rather late in the day, fascinated with the simplicity and the straightforwardness of brickwork."
His approach to one of the recommended vernacular materials in villa 075 provides a new answer, perhaps, to Louis Kahn's famous question about what bricks want to be: in his three-tower plan, they aspire to be sunbathers. Identical large-scale red brick buildings along the plot's north façade, a storey taller than most of their neighbours, reach up to emphasise the openness of the Mongolian sky. Exuberantly anthropomorphic and happy to guide attention away from themselves toward the sky and the earth, Conder's buildings suggest a European-style housing density while providing bedrooms, gallery space, and 'roof terraces for the few days in the year you wouldn't be blown away'.
Work AC's villa 096 respects the beauty and rigours of the external environment. It creates an artificial horizon through perforated and angled concrete walls at ground level. Above, the walls are more protective. Dan Wood and partner Amale Andraos reserve most of the complexity for the interior circulation, sticking to the external footprint of what Andraos dubs "a square house that has the proportion of the Villa Savoye… we call it the hutong on top of the onion."
"The wider impact of Ordos 100, like that of other rapid changes in China, will depend on contingent decisions and on leadership."
Noting 'the paradox of the seven-bedroom house for a nation with a one-child policy', Wood says he sought a flexible design that could accommodate a collective of adults as easily as a family. A central, communal space is approached through various 'layers of the onion', a series of covered exterior spaces, stairs, and hallways.
Villa 007 by LRA is set on an odd-angled corner plot, the smallest site requiring a two-storey building. Drawing this tricky spot in the site lottery, Rice and Lipka made a virtue of necessity and brought vertical landscape elements into the building. The resulting 'light gardens' and low building profile, with sunlight filtered through trees, an insulating and cooling layer of rooftop soil, double-layer concrete wall sections and additional shading provided by low-cut windows in the shell make their villa one of the most explicitly green of the Ordos designs.
Country houses
As Americans who lived in Europe while working at the Office of Metropolitan Architecture, Work's Andraos and Wood were in a good position to determine the extent of national affinities. Wood found that one cliché about American architecture, for example, a belief by some Europeans that a 'blobby, exuberant formalism' is dominant west of the Atlantic, didn't hold up at all. "What is shared is maybe bigger than what is different," says Andraos; "you have groups, but the groups don't exactly meet the national boundaries." The globalisation of practice appears to weigh against clear-cut national schools of thought.
Conder, in contrast, observed fairly clear-cut national groupings. "The stars for me," he says, "'were Mexican and South American; they were just so much more raw, emotional, interesting, enjoyable, and human. From Indonesia, the fluidly biomorphic designs of Adi Pumomo (villa 078) and the stark angles of Adrian Zenin (villa 094) stand out as encouraging discoveries. Villa 052 by Mexico City's Tatiana Bilbao subtracts volumes from the most conventional imaginable pitched-roof form, offering an insouciant, nearly parodic combination of masses that appears to slide apart like a collapsible toy, cleverly deploying negative spaces as internal terraces.
"Dellekamp Arquitectura of Condesa, Mexico (villa 014), with a stark, monolithic elliptical container of salt-and-pepper grey brick and curved glass, made arguably the simplest and boldest statement in the development. "You suddenly realise it's a very rich world out there," concludes Conder, "and somehow in Europe we got very, very tight, and we slightly lost the plot."
"Ai, in recruiting the global team, specifically solicited 'the best thinking on the planet right now about sustainability'."
The wider impact of Ordos 100, like that of other rapid changes in China, will depend on contingent decisions and on leadership. "At the moment China decides to clean up its power supply, they're going to do it," Wood is convinced. "Overnight," Andraos adds. "For us, especially after the trip, there was a feeling that living here in America, we should be concerned about turning the US around before making claims on other countries."
"There are a lot of stereotypes out there," James Slade notes: "I think China has better regulations than the US federal government has on autos, for example. It's easy to criticise people outside of your own culture."
Rice emphasises how Ai, in recruiting the global team, specifically solicited "the best thinking on the planet right now about sustainability." This bodes well, he believes, for the sort of incremental change he trusts. To Conder, "it will only really work if this is the first part of a developing project involving Ai Weiwei, so the ideas keep on coming."