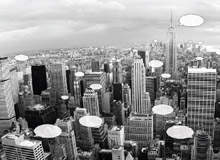 New York firm The Living is given to sweeping techno-utopian visions. "In the future, buildings will talk to one another," co-founders David Benjamin and Soo-in Yang once wrote. "As sensors disappear into the woodwork and all kinds of data is transferred instantly and wirelessly, buildings will communicate information about their local conditions to a network of other buildings. Architecture will come to life." It might sound like the stuff of sci-fi if they weren't busy experimenting with transforming their predictions into reality, one prototype at a time.
In one of the firm's projects last year, Living City, buildings outfitted with external air-quality sensors in San Francisco and New York shared data with each other via the internet. A prototype of a flexible wall 'breathed' like the gills of a fish in response to the changing information, demonstrating the potential of architecture to adapt to shifting conditions and to alert humans about them.
"New York firm The Living is given to sweeping techno-utopian visions."
Amphibious architecture
This year Benjamin and Yang, co-founders of the tech-savvy firm, are gearing up for a project that will take their notion of architectural social networks to New York's waterways. The collaborative project, Amphibious Architecture, will serve as a public interface to water quality and life, rendering the murky world of urban river ecosystems more comprehensible to city inhabitants.
The floating structures will be on display from September to October in the citywide exhibition 'Situated Technologies: Toward the Sentient City', which is devoted to exploring the relationship between pervasive computing and urban architecture.
People strolling or driving by two locations on the Bronx River and Manhattan's East River will find an unusual sight: a "cloud of light hovering above the water," Benjamin says. The effect will be generated by floating grids of tubes adorned with LEDs that glow in shifting colours and patterns in response to data from sensors measuring water quality and the movement of fish and currents. Information gleaned through wireless networks at each site will be shared between sites via the internet, much as in Living City.
Participants will be able to request detailed environmental information via text-message, and when they do, lights in the installation will flash, so observers onshore can gauge the level of public interest. People will also be able to trigger lights visible to underwater creatures, as a form of simple interspecies communication. As the project description explains, "The two-way interface of the project will expose humans and cities to the life of fish below water, and expose fish to the life of humans and cities above. In the process, it will encourage and make visible the social networks of fish and the social networks of buildings."
Living light
Text-messaging also plays a key role in a similar project in Seoul, Korea. Scheduled for completion in April, Living Light is a public pavilion, the surface of which serves as digital interface for learning about local air quality. The dome-shaped structure is made of a transparent acrylic panels etched with a city street map.
"In the future, buildings will talk to one another."
When air pollution in a certain zip code improves from one day to the next, that neighbourhood is illuminated by LEDs, giving observers the ability to monitor broad air-quality trends at a glance. A text-messaging hotline will dispense further details about each neighbourhood, including real-time information on levels of ozone, sulphur dioxide, nitrogen dioxide, carbon monoxide and other pollutants.
With a prominent location near a central transportation hub, Yongsan KTX Terminal, the pavilion is sure to provoke attention, especially in a city with severe air-quality fluctuations.
Using mobile gadgets to interface with architecture isn't new. Artists, however, have seemed quicker to experiment with it than architects, as when hacker group Chaos Computer Club created a giant version of Pong, Blinkenlights, in which players used their cell phones to control the lights in a building's windows in Berlin in 2001. In 2006 street artist Paul Notzold launched his project TXTual Healing, which let participants text in messages to be projected on the sides of buildings, in a form of virtual graffiti. Often such projects have tended to be more playful than profound.
What distinguishes The Living is its concern for ecological issues, coupled with a matter-of-fact use of technology, remarks Mark Shepard, curator of 'Situated Technologies: Toward the Sentient City' and co-director of the Center for Virtual Architecture at the State University of New York at Buffalo. "I think The Living is acutely aware of how working in this domain can quickly devolve into the pursuit of novelty for the sake of novelty," he says. "I find that their work often looks beyond the mere 'bling' of what you can do with these technologies to the larger social and environmental issues that they enable one address." With the wave of interest in green design these days, perhaps the firm's approach could lead the way to new forms of ecological engagement.
The Living
Before Benjamin and Yang met as students at Columbia University's graduate school of architecture, planning and preservation, Benjamin worked at technology start-ups, while Yang spent some time managing construction. Together, they shared a range of cross-disciplinary skills and a keen interest in non-traditional architecture. Their first project together in 2004 was designed to address the question, "What if architecture responded to you?" Their answer was Living Glass, the breathing wall that eventually became part of Living City.
"What distinguishes The Living is its concern for ecological issues, coupled with a matter-of-fact use of technology."
Living Glass reacts to high levels of carbon dioxide by opening its slits and letting fresh air in, thus making invisible conditions visible, a recurring theme in their work. They teamed up to form The Living the same year, before graduating in 2005.
By 2006 the firm was already rising in prominence, in New York and beyond. Living Glass was featured at Chicago's Museum of Science and Industry, and BusinessWeek cited the project in an article on revolutionary building materials. The firm was also selected for the Architectural League's Young Architects Forum, an award honouring the best young architects in North America. The same year, it debuted River Glow (a simpler early version of Amphibious Architecture) on the Emil Holms Kanal in Copenhagen.
Though Benjamin and Yang take on some bread-and-butter projects such as residential renovations, their experimental R&D projects are the ones that fuel their passion and define them as a firm. Teaching classes at Columbia and Pratt Institute and appearing frequently on the lecture circuit have helped them spread their ideas, along with a penchant for project documentation in the open-source spirit. They've mentored some promising interactive-architecture projects among their students as well, such as a door that harvests the human energy used to open it, a project begun by Carmen Trudell and Jenny Broutin while studying at Columbia.
Intriguing contradictions abound in The Living's work. They're fascinated with ubiquitous computing, yet they chose their name to avoid fetishising technology in their quest to bring architecture to life. Many of their endeavours are relatively modest in size and budget, but they address huge issues, such as the nature of public space and the role of architecture in an increasingly networked world. And even with permanent structures such as Living Light, the firm tends to speak of their creations as experiments or prototypes, emphasising the incremental nature of technological advancement.
"Living Glass was featured at Chicago's Museum of Science and Industry."
Yang and Benjamin are The Living's only full-time members, and for such a recently formed small firm, their rise to success may seem surprising, but part of their strength comes from their affinity for ad-hoc multidisciplinary collaborations.
Teaming up with artist-scientist Natalie Jeremijenko (among others) to create Amphibious Architecture was a bit of a dream come true; "she's been a great inspiration for us from the beginning," Yang remarks.
Like her, The Living shares a concern for translating scientific environmental data into forms that laypeople can understand, promoting grassroots activism.
"Even in the beginning of our practice, we liked the idea that we could collaborate with people on a project-by-project basis," Benjamin says. "Our version of a young, experimental architecture practice didn't need what might have been the kind of typical [definition] several years ago, which was: Do you have an office? Do you have a fax machine? [Do] you have employees? We feel like we definitely have a practice, but we don't have all those things," he said, with a laugh. And who needs something as old-school as a fax machine when you have buildings to text with?