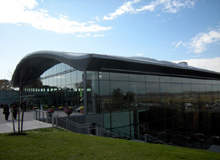 Physical sciences and arts and humanities have a devilishly hard time understanding each other, so do universities and their surrounding areas, particularly in the US, where anti-intellectualism, at least in some provinces, remains the last permissible prejudice.
These intersecting tensions make it particularly challenging for an academic institution in a troubled Rust Belt city to attempt to raise its profile by building a centre dedicated to both research and the performing arts. The Curtis R Priem Experimental Media and Performing Arts Center (EMPAC), which opened in late 2008 at Rensselaer Polytechnic Institute (RPI) in Troy, NY, after seven and a half years of planning and construction, represents an ambitious effort to build metaphoric bridges in several directions.
Cultural magnet or specialist plaything?
EMPAC also represents a substantial gamble. It may become the site where advanced technical and artistic thinking finally overcomes the age-old understanding barrier, helping to attract new blood, perhaps energising not only the institution but a new idea-driven economy for upstate New York. Conversely, it could become an elaborate plaything for a relatively small set of specialists, further isolating RPI without becoming a regional cultural magnet.
The 220,000ft² EMPAC – actually a series of acoustically separated 'buildings within a building' occupying two parallel blocks – is visually and sonically stunning. Beyond being a proving ground for high-performance design and engineering on a large but not lavish academic budget, it is also a potential test bed for the idea that scientific and cultural infrastructure can help reanimate a fading city. The term 'experimental' in its title applies not only to the state-of-the-art acoustics and virtual-reality environments it will house, but to the entire enterprise.
RPI's EMPAC design
How well do you really know your competitors?
Access the most comprehensive Company Profiles on the market, powered by GlobalData. Save hours of research. Gain competitive edge.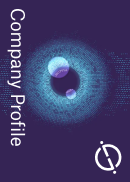 Company Profile – free sample
Thank you!
Your download email will arrive shortly
Not ready to buy yet? Download a free sample
We are confident about the unique quality of our Company Profiles. However, we want you to make the most beneficial decision for your business, so we offer a free sample that you can download by submitting the below form
By GlobalData
RPI isn't as well-known as the technology institutes of Massachusetts or California, but it's in the same intellectual league with MIT and Caltech; it's America's oldest private technical university, highly regarded by well-informed scientists and engineers if not yet by the general public.
EMPAC fuses the desire for a top-flight concert hall with scientists' interest in advanced research and communication facilities and, for performers and audiences, an undreamt-of level of audiovisual support. Some faculties resisted the project, largely for financial reasons, and it is not a forgone conclusion that EMPAC will be a programmatic success, but its architecture, engineering, and technologies are already turning heads.
"EMPAC could become an elaborate plaything for a relatively small set of specialists."
The design and construction team was international and top-notch, and included the early installation of a director. The decision to hire a director six years before construction ended was unusual, and it helped the EMPAC team define its technical goals with precision through a difficult process of design and redesign.
The site, atop a 30° hill overlooking the town and the upper Hudson River Valley, presented obstacles that might have halted a less determined leadership altogether.
According to project architect William Horgan, the original competition-stage design was a simpler box volume set deeply in the hill with a planar roof extending RPI's campus out toward the river, requiring a deep wedge-shaped 'big dig' and a bentonite slurry wall. Buro Happold's geologic studies, however, revealed a combination of soft gray and brown clays, sand lenses, and bedrock too deep below these alluvial deposit layers to support the original design.
New York State is also a moderate seismic zone, with events rare but severe; the state building code changed in 2000, incorporating international building code requirements to consider seismic activity mapping. Safety concerns, coupled with budget-stretching programme expansions at the schematic-design stage, the local unavailability of contractors who could execute the slurry wall, and campus-security caveats that the walkable roof might invite suicides, led to a major redesign.
Instead of deferring to the hill, the revised EMPAC now rises boldly out of it. The shallower stepwise excavation, however, did not generate a simpler structural approach. The bedrock configuration requires some of the longest rock anchors in North America, extending some 250ft, for stability; slider bearings on the back (east) wall allow movement in a seismic event, which could stretch the steel anchors as much as 5in, says Buro Happold principal Craig Schwitter.
Another key change, Horgan notes, was to replace the initial 1,200-seat multipurpose hall, which would have included a fly tower (compromising the acoustics), with a similar-sized concert hall with world-class sound in the north block and a separate 400-seat theatre with fly tower, along with two smaller studios: one a minimalist black box capable of 360° immersive video projection, the other a 'lights on' room for audio recording, dance, and visual presentations.
EMPAC's north and south blocks articulate a parti that contrasts the facility's 'analogue' and 'digital' aspects, respectively: the transparent north block displays a striking curved hull of western red cedar, sustainably forested in British Columbia, surrounding the concert hall traditional shoebox volume with the organic silhouette of a giant wooden egg and the overwhelming physicality of a sailing vessel from an earlier century, while the three chambers in the more orthogonal south block express a more purely high-tech aesthetic suitable to the virtual spaces that their digital instruments will generate. Each space offers visual surprise as well as sonic precision.
"RPI is America's oldest private technical university, highly regarded by well-informed scientists and engineers."
Although the programme's performance, rehearsal, and recording components (a relatively new element at RPI) tend to monopolise attention, EMPAC's spaces will be used for studies in acoustics, audiovisuals, psychological perception, data presentation, and other forms of research as well as for the arts.
Sound priorities and scientific procedures
The concert hall, influenced by world-class venues such as the Vienna Musikverein, is EMPAC's centrepiece, acoustically optimised with a two-second reverberation time for the large orchestras and sonic range of 19th-century symphonic music.
Visitors, having entered the building at hilltop level, overlooking the atrium and main circulation area, descend large side staircases and cross skybridges to reach the hall's balcony or parterre. Inside, an adjustable, partially reflective ceiling of thin fabric suspended by light steel cables offers acoustic customisation for orchestral music, jazz, amplified music, or other programmes.
The hall's sound diffusion also benefits from a series of dedicated design elements, including saw-cut maple strips behind the orchestra, convex and concave ravioli-shaped precast gypsum panels around the galleries, and even acoustically optimised clamshell seats with maple wrapped around the edges to minimise the cushions' acoustic exposure.
In the smaller studios, movable panels with two-directional cratering achieve similar effects. Kirkegaard Associates, acousticians and audiovisual specialists, cites the random pocked surfaces of tree bark in a forest as an inspiration for the pervasive elimination of any repetitive feature that might create sonic interference.
"EMPAC fuses the desire for a top-flight concert hall with scientists' interest in advanced research and communication facilities."
Perhaps the most impressive element of EMPAC's detailed attention to acoustics is something no one will hear. EMPAC's performance spaces are engineered to the RC15 acoustic standard: essentially silent, at the limit of human hearing. Structural isolation and an advanced displacement ventilation system eliminate not only vibrations conveyed between building components – programmes as different as a violin solo and a 100dB avant-garde multimedia piece incorporating industrial noise can allegedly take place simultaneously and independently – but also the routine background whirr of a conventional HVAC system with overhead ducts.
For all its Swiss-army-knife features, its huge video screens retracted into boxes and its widely tweakable spaces, EMPAC is not the sort of building that tries to be all things to all people.
Horgan describes another of its carefully-thought-out chambers, the 400-seat theatre, as reflecting the difference between flexibility (as in a nondescript multipurpose space) and versatility. "A lot of people talk about flexibility as almost an end in itself," he comments.
"Flexibility in our experience can often result in compromise of architectural character and compelling architecture, because it enables a space where people will deconstruct the architecture to achieve their ends." The 40ft×80ft×70ft theatre dispenses with a proscenium arch and functions as a single room with variable audience / performer borders (including bringing the audience into the fly-tower area, becoming a theatre in the round); still, it has a distinct identity, elegantly stark with its deep red walls, black metal, and seating of leather and maple. It appears on early examination to be able to adapt actively, not passively, to directors' and performers' choices.
To Horgan, the theatre "contains the heart and soul of what EMPAC is about: laboratory-like experimental spaces. It's about exploration, and these spaces provide that sense of anticipation and adaptability."
The wider experiment
EMPAC may be a setting where the comparison of artistic endeavour to investigation and invention can rise from the rhetorical level to the literal. Certainly, its initial programmes – everything from Thomas Tallis to hip-hop and video-game art, with a strong concentration on adventurous contemporary composers, jazz and otherwise – suggest that it will draw unprecedented talent toward the Hudson Valley, at least as performers. What that might mean for its surroundings, both on campus and beyond, is harder to predict.
EMPAC will give students spaces and options, but it is chiefly for professionals, not student work, and it is located relatively far from critical masses of avant-garde art consumers. Rail links to New York City and other major centres are unreliable, effectively limiting non-regional regular audiences to motorists and those willing to endure extended bus travel. Until that changes, EMPAC's local appeal will determine whether it will flourish or languish.
"EMPAC's performance spaces are engineered to the RC15 acoustic standard."
Troy is the highest navigable point on the Hudson River, and in the 1900s it was a prosperous mercantile centre, but post-industrial economic decline, destructive 1970s 'urban renewal', and a population exodus have left the usual scars. Any cultural catalyst that might jump-start the area's economy and culture would be a boon; the memory of how northern Californian universities, as talent channels and technology-transfer incubators, fostered Silicon Valley, or Boston-area institutions fed the Route 128 high-tech corridor, is not too distant to be instructive. Along with being a technical marvel, EMPAC is a missing-link component of a new RPI that might become just such a catalyst.
The private academic sector, Craig Schwitter speculates, is increasingly creating projects that America's tax-starved public sector can't even consider. Universities, what he calls "financial juggernauts… the city-states in the middle of the city," are for better or worse the most energetic providers of quasi-public cultural infrastructure. With EMPAC, RPI has put itself decisively on the map among the institutions defining how 21st-century Americans will think, explore, and in several senses perform.