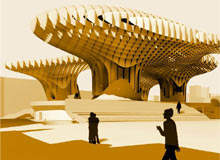 In recent years Berlin-based Jürgen Mayer H has built a reputation as one of contemporary architecture's true provocateurs, a creator of radically original designs that combine rigorous rationalism with a panache that occasionally crosses the border into whimsy.
His work can be called deconstructionist in a philosophically Derridean sense, quite distinct from the rough-edged deconstructivism of Peter Eisenman or Daniel Libeskind: he interrogates the distinctions between ideas often assumed to be polar opposites, and generates designs that dissolve the various conceptual polarities to create new forms of intellectual and physical continuity.
Mayer's buildings alter their surroundings with the utmost gentleness; they are eye-catchingly disruptive without visual aggression.
Since winning an emerging-architect special mention at the Mies van der Rohe Awards in 2003 for the Scharnhauser Park Town Hall in Ostfildern near Stuttgart, Mayer and his colleagues have been on a roll, both in competitions and in construction.
The Spanish city of Seville is now organising a new civic plaza around the firm's Metropol Parasol, or, more precisely, beneath it. Rising from the central city as an elevated terrace comprising six conjoined towers resembling giant mushrooms, modulating the patterns of light and shadow below through gridded perforations, the Parasol invites a comparison to the rubberiest amoeboid visions ever drawn, sculpted, or projected during the psychedelic era.
Mayer looks back admiringly at the 1960s and 1970s, an age of what he calls early attempts to look into architecture not only as a kind of tectonic or historic system, but as an overall space that includes atmosphere, haptic qualities, material sensibilities, maybe smell, air, light, sound, all these things.
How well do you
really

know your competitors?

Access the most comprehensive Company Profiles on the market, powered by GlobalData. Save hours of research. Gain competitive edge.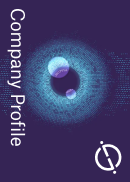 Company Profile – free sample
Thank you!
Your download email will arrive shortly
Not ready to buy yet? Download a free sample
We are confident about the unique quality of our Company Profiles. However, we want you to make the most beneficial decision for your business, so we offer a free sample that you can download by submitting the below form
By GlobalData
Today's smart materials and interactive technologies, he believes, can articulate many of the aspirations that faded with the rise of postmodernism. While recalling that era's utopian-futurist mood, the Parasol is also historically grounded through both its inspirations and its material. Reversing a century of modernist allegiance to industrial materials, it uses a high-tech design approach to achieve a refreshingly low-tech (or perhaps antique-tech) structure: it's built largely of timber.
A SITE WHERE THE PAST WOULDN'T STAY BURIED
"Preliminary excavation for the Metropol Parasol unexpectedly uncovered Roman ruins."
With its massive cathedral built atop a mosque site and its famous Giralda bell tower growing out of a 12th-century minaret, Seville's architectural legacy reflects a two-millennium history of conquests and reconquests.
The local mudéjar style expresses the unique Andalusian symbiosis of cultures: Islamic, Romanesque and Gothic elements commingle there, layered and intertwined in elaborate geometries. More explicitly than most places, Seville displays physical traces of the cultural accretions and transformations that enrich its history.
It thus seems appropriate that the latest addition to Seville's skyline will resemble mushrooms, sprouting from the raw materials of a past that recent development had ignored. Mayer attributes critical aspects of the design to the contingencies of its site. In the 19th century, the medieval Plaza de la Encarnación was a vibrant food market roughly analogous to Les Halles in Paris – and during the 20th century, like Les Halles, it fell into neglect.
The market was demolished in 1973; its neighbourhood failed to keep pace with Seville's growth, even as the 1992 World's Fair spurred vigorous construction outside the central city. "The site has been a hole for basically the last 30 years," says Mayer It assumed the humblest of urban functions, serving as a parking lot.
Local officials planned to replace the lot with an underground garage and began installing a perimeter wall, but during preliminary excavation 40m below grade, crews unexpectedly uncovered Roman ruins. Civic leaders suddenly saw the potential for an archaeological museum, a restored and enclosed market, a complex of bars and restaurants, and a new magnet district for visitors.
INTERNATIONAL DESIGN COMPETITION
The Sevilla Urban Planning Agency organised a multiphase international design competition, encouraging public brainstorming to consider the possibilities for a 21st-century urban space instead of setting specific commercial conditions.
Presentations to officials, citizens and the other architects among the ten firms who made the second round resulted in refinements to the designs and, ultimately, a decisive victory for Mayer's proposal in the court of public opinion.
"The Metropol Parasol is due to be completed in 2009."
Along with the planned museum and market, Mayer's firm proposed a large overhead canopy sturdy enough to support crowds, providing both shade for ground-level events and activities, and a sky terrace including walkways, a restaurant and unprecedented vistas onto the surrounding neighbourhood.
Construction began in 2007, with engineering support from Arup and Spanish firm Sacyr acting as general contractor. Mayer foresees completion in mid-2009.
THE PARASOL
The Parasol's form is the result of its structural constraints. Only certain points within the archaeological excavation can support weight; bringing the entire load down onto those points, Mayer and his colleagues devised a system of six curved columns, supporting a network of forms constituting a single fluid surface.
One thinks not only of mushrooms but of clouds, umbrellas, topiary, the enormous ficus trees of the nearby Plaza Cristo de Burgos or a cartoonist's word balloons. The structure also recalls El Lissitzky's Wolkenbügel photomontage, but with the hovering masses softened and smoothed into a continuous volume. The Parasol "erases hierarchies of floor, walls, and ceiling," says Mayer, "becoming all one organic shape."
Mayer includes Seville's renowned Gothic cathedral as a key reference point, along with a tiled ceiling that he photographed from atop the cathedral, a warped surface that reminded him of 'a flying carpet in stone'.
"Mayer includes Seville's renowned Gothic cathedral as a key reference point for the Parasol."
He and his colleagues envisioned the Parasol defining a new gathering space that would complement the archwork and ornamentation of the cathedral by providing the public with a similarly inspiring atmosphere.
"We like to compare our project with the church," he says, "but we call it the urban, 24-hour open cathedral," in contrast to the Catedral de Santa Maria's 'religious enclosed space'.
LIGHT AND SURPRISINGLY LOGICAL MATERIAL
The design would have been impossible without digital design software (2D/3D ArchiCad, Maya and Rhinoceros). Initial drafts resembled a perforated membrane more than a sculptured volume. Mayer reports that before settling on the grid pattern, his firm tried out even more complicated structures but found them unmanageable on such a scale.
Experiments with thin-grained structures also yielded unsatisfactory aesthetic results: "the parasol would look the same wherever you cut it. Simplifying the internal grain into a grid," he says, "creates a much more interesting differentiation," along with better cost projections.
In what he terms a 'dialogue between a clearer geometric system and a free-form modulation, the Cartesian grid of the Parasol's perforations sets up an intriguing tension with the larger-scale fungiform contours. "By confronting these two systems, what we get is, I think, interesting lines that you see actually support the structural quality of the Parasol.
"Seville's architectural legacy reflects a two-millennium history of conquests and reconquests."
If you cut a tree trunk, you get these age rings; similar to that, we make the dynamic process in the structure visible."
The lattice does not follow the lines of force radially, he says; instead of diagonal lines leading toward each central stem like the spines of an umbrella, "the forces actually work against the orthogonal system." Internal support comes from prestressed steel rods; two concrete columns support the observation platform and restaurant.
FINEST FINNISH SPUCE
Selecting the dominant material literalised this tree-ring metaphor. The bulk of the structure is made of Kerto, a laminated veneer lumber (LVL) product by Finnforest-Merk that can be prestressed, cut into free forms, pressure-impregnated against fungal decay and shaped offsite for rapid assembly.
Made of peeled-out Finnish spruce, which grows abundantly enough near the factory to exceed the rate of harvest, Kerto is dimensionally stable, lightweight and inexpensive relative to other materials of comparable strength.
Mayer and HIS colleagues discovered Kerto after three months of materials research for a previous project, the Mensa Dining Hall in Karlsruhe.
Within tight budget constraints, Kerto, with a weatherproof polyurethane coating outperformed other materials (including steel, glass fibre, reinforced concrete, and non-polyurethaned wood) in tests of temperature tolerance and projected long-term maintenance costs. The polyurethane reduces detailing work by making metal flashing unnecessary, and the prefabrication capability cuts construction time and noise on site.
"Seville's architectural legacy reflects a two-millennium history of conquests and reconquests."
Both the partnership and the product choice bore repeating when the Parasol designs called for a similarly efficient material.
Mayer singles out Andre Santer and Marta Ramirez, co-project architects within his firm, as particularly capable collaborators with the Finnforest team on technology development for both the Karlsruhe and Seville projects.
SAFETY AND STABILITY
Fireproofing is an obvious concern in a wooden structure, particularly one harbouring a restaurant. Fire systems developed for the Parasol include standard code-compliant sprinkler systems near the Sky Café and non-flammable protective materials along evacuation routes. The Kerto-Q variant used in the Parasol has one-fifth of its veneers glued crosswise, giving the beams additional lateral shear strength.
Avoiding the wobbliness that initially plagued Norman Foster's Millennium Bridge, Mayer says, is another high priority, particularly considering the altitude of the Sky Walks (22m above grade) and the unorthodox material choice for a structure of this scale. Measuring 150m by 70m, the Parasol is one of the largest timber structures ever created.
Kerto meets the Pan-European Forest Certification standard for sustainable production methods, although Forest Stewardship Council certification is not documented for the product at the time of writing (other Finnforest products do have FSC approval as well as PEFC, and the company follows explicit policies to ensure sustainable sourcing, including external audits).
Marcus Fischer, Finnforest's project manager and consultant at both Karlsruhe and Seville, emphasises the renewability and low carbon footprint of LVL products: "We assume that [sustainability concerns] will change the whole construction situation," he comments. "Timber is the building material of the future."
EXOTIC NICHE OR RENEWABLE-MATERIALS RENAISSANCE?
Finnforest-Merk not only collaborated closely with J Mayer H Architects on the project but is also taking a commercial role in the Parasol's public / private partnership with Seville.
"The Parasol's form is the result of its structural constraints."
In exchange for half the funding, plus building-maintenance responsibility, Finnforest has a 40-year concession allowing rent from the associated businesses and events, after which full ownership reverts to the city. The Parasol is a flagship project for the firm and a broader proof-of-concept prototype for LVL-based constructions on large scales.
Fischer mentions the veneered timber components for internal structures at the Charles deGaulle Airport in Paris and the Mariinsky Theatre in St Petersburg, Russia, along with the structural timber components of the Mensa Karlsruhe. Mayer also notes that a five-storey wooden apartment building is under way in Berlin.
A handful of projects don't yet add up to a trend, though there are ample reasons for optimism about LVL. Advances in cross-lamination are overcoming the weaknesses of more conventional glulam beams, and large-scale panels (Kerto is available in single pieces of 1.8m x 24m) offer increased stability.
Wider acceptance of timber as a load-bearing material, Fischer notes, needs to overcome the tendency for academics and practitioners to think of it as an exotic material within the construction business.
If the Parasol, with its plaza and associated programming, helps Seville draw more world travellers, it may also help publicise the viability and possibilities of modern wooden construction. In any event, rising general interest in sustainability makes timber intellectually attractive, while its visual familiarity appeals to people's intuitive biophilia. Mayer notes that wood doesn't have this kind of eco-tech flair to it, but it really is part of forward-looking, high-tech architecture.
"The Parasol uses a high-tech design approach to achieve a refreshingly low-tech structure."
One of the oldest known building materials may become as much a part of the future as anything from a mine or a lab.
Mayer compares new timber treatments to other recontextualised traditional materials he has worked with – linoleum; glass mosaic tiles attached to soft polyurethane mesh; digitally pulsed artificial rainwater – and cautions that the new wooden frontier is relatively unexplored.
"We don't really know what all these new materials do, or how long they survive," he says. "So I think the interior is maybe a more available field of experimentation or testing what these elements can do than the exterior." The experiment about to be conducted under the Andalusian sun could have far-reaching implications for the texture of tomorrow's public space.