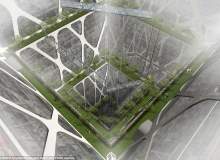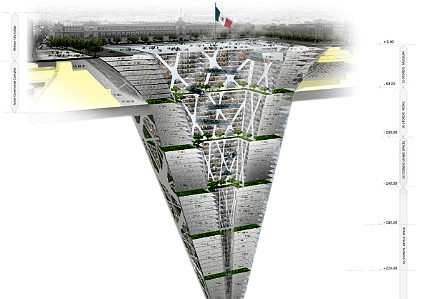 The global trend for mass migration to large cities is creating a host of challenges for city planners trying to deal with dense metropolitan populations.
"Earthscraper would delve 300m underneath Mexico City's central plaza, a 65-storey inverted pyramid."
In most cases, creating living and working spaces for large numbers of residents and commuters within limited square footage means building up, with gleaming skyscrapers and glowering residential towers filling the skylines of the world's major urban centres.
While building upwards is the obvious choice for space-conscious urban development, would it be possible to take the opposite approach and dig downwards to find new space? For central London's financial elite, immense basement extensions are emerging as a new trend to increase the size of residential properties without affecting the buildings and gardens above.
One hedge fund manager recently paid more than £800,000 in council fees for permission to create a massive two-storey underground basement beneath his Kensington mansion, according to the Daily Mail. Applications for underground extensions of this type in the Kensington and Chelsea area have reportedly shot up from 13 in 2001 to 307 in 2012.
An innovative underground design created by Mexican architecture firm BNKR Arquitectura in late 2011 digs deeper than any other efforts, however. The concept, dubbed the 'Earthscraper', would delve 300 metres underneath Mexico City's central Plaza de la Constitución to create a 65-storey inverted pyramid that saves space and references the most iconic edifices of the city's Aztec ancestors.
How well do you
really

know your competitors?

Access the most comprehensive Company Profiles on the market, powered by GlobalData. Save hours of research. Gain competitive edge.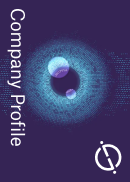 Company Profile – free sample
Thank you!
Your download email will arrive shortly
Not ready to buy yet? Download a free sample
We are confident about the unique quality of our Company Profiles. However, we want you to make the most beneficial decision for your business, so we offer a free sample that you can download by submitting the below form
By GlobalData
The Aztec pyramid inverted
BNKR's concept is a reaction to the need to expand Mexico City's residential, commercial and cultural capacity while also heeding the city's planning restrictions, which include an eight-storey limit on building height. This kind of limit is relatively common due to ground quality or aesthetic concerns, and is appropriate for a city that is particularly prone to earthquakes.
"Earthscraper would essentially create its own underground mini-city."
"There is very little room for any more buildings in Mexico City, and the law says we cannot go above eight stories, so the only way is down," BNKR co-founder Esteban Suarez told CNN. "This would be a practical way of conserving the built environment while creating much-needed new space for commerce and living."
The inverted pyramid of the Earthscraper would essentially create its own underground mini-city while maintaining the purity of the historic architecture surrounding Mexico's city's main square. Under BNKR's plans, the uppermost storeys would be dedicated to a museum exploring the city's ancient roots and artifacts, many of which would likely be discovered during an initial excavation phase.
"We'd almost certainly find plenty of interesting relics during the dig, dating right back to the Aztecs who built their own pyramids here," said Suarez.
Below the museum would come the building's central layers of retail and residential space, followed by 35 storeys of offices at its deepest point. The top of the reverse pyramid, its widest point, would be covered with a reinforced glass roof to allow natural light to illuminate the abyss below as deeply as possible.
Shops and living spaces would line the perimeter of the building to leave the central void unblocked, allowing "all habitable spaces to enjoy natural lighting and ventilation", according to BNKR. Green 'earth lobbies', meanwhile, would be placed at regular intervals to create a pleasant microclimate and improve air quality.
Practical problems
As optimistic and exciting a vision as the Earthscraper is, reality inevitably throws up crucial, inescapable obstacles on the road to BNKR's futuristic underground city. It also serves as a reminder that the Earthscraper is still on the conceptual drawing board, with no evidence that it has moved any closer to implementation than when it was first unveiled.
"If the earth decided to scrape back, would the building's pyramid structure be strong enough?"
The lack of momentum behind the design can predominantly be attributed to the massive practical questions that would need to be definitively answered if it was to be made real. The concept would reportedly cost around $800m to carry out, but it's easy to see that price tag skyrocketing with the complex engineering problems it brings with it.
Technically, Mexico City's high level of seismicity, the main reason for its initial building restrictions, poses particularly pressing questions. Would the excavation and construction of the Earthscraper cause instability? And, if the earth decided to scrape back, would the building's formidable pyramid structure be strong enough to prevent a massive catastrophe?
Other issues loom large over the project. The building is intended to serve the eco-friendly purpose of minimising urban sprawl into the surrounding countryside, but would the energy requirements of lighting the structure's darkest depths (Suarez has suggested that a fibre optic system might be able to carry sunlight to lower levels) and mundane operations such as wastewater removal end up creating an unsustainable demand for power?
And on a more human level, would residents feel like troglodytes, living and working hundreds of metres beneath Mexico City's busiest plaza, which hosts concerts, festivals, political demonstrations and military parades?
Given enough time and, more importantly, investment, all these questions could be answered. But with hundreds of millions of dollars and one of Mexico City's most historically significant sites at stake, the jury's out on whether city authorities will ever consider it worthwhile to even come up with a practical plan. Still, as demonstrated by another inverted skyscraper concept that would make use of an abandoned mining pit in Arizona, architects continue to find the concept inspiring and potentially workable. If a single project – in Mexico City or elsewhere – receives the investment required to answer all these thorny questions to the public's satisfaction, this half-formed idea could give birth to a whole new mode of city living.
---
Related content
---
The vertical village concept offers a vibrant alternative to drab and dreary residential tower blocks.
The appetite for tall skyscrapers is especially significant in China, which currently houses four of the world's tallest buildings.
---