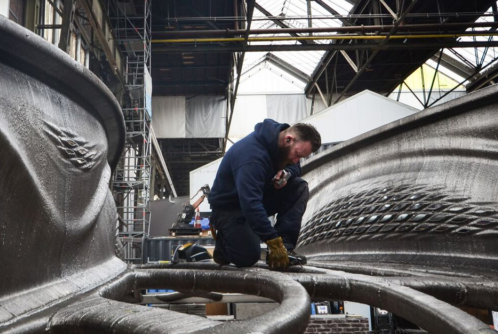 It's still early days for 3D printing, but there seems little doubt that it will influence future architectural practices.
So believes Gijs van der Velden, co-founder of MX3D, a robotics startup based in Amsterdam. Over the last year, the group has been in the headlines for having successfully 3D printed the structure of a steel pedestrian bridge using robots.
Completed this year, the bridge is set to be installed across the Oudezijds Achterburgwal, one of the oldest canals in Amsterdam's famous network of waterways. Figuratively speaking, it can be seen as a bridge between the Dutch capital's medieval past and the technological age we find ourselves amidst.
The feat was achieved by equipping six standard industrial robots with purpose-built tools, all controlled by innovative software, which were able to draw the four-metre-wide structure from layers of molten steel. The bridge has been designed by celebrated Dutch designer Joris Laarman, together with Arup as led structural engineer.
The result is a 12-metre long bridge, strong enough to have already passed a set of initial load tests. Currently adding the finishing touches – including placing the deck and coating – MX3D will present its creation at Dutch Design Week in October.
The ultimate goal of the project, explains van der Velden, is to showcase the potential applications of multi-axis 3D printing technology. Traditionally, robots have been confined to shop floor operations, but there is every chance we'll soon see them on building sites, "doing everything from drilling holes to painting walls".
In an architectural context, the possibilities of such technology could be transformative.
Ross Davies: Could you briefly explain how your technology works exactly?
Gijs van der Velden: We strongly believe that robots are going to be the main production factor in construction and infrastructure projects of the future. We also believe most companies will start using relatively standard robots, like the robots used in the car industry, and then create a software package that allows them real flexibility for specific techniques.
At MX3D, we use a robot standard welding source, with the strong belief that it will solve our clients problems. And even if our clients don't use our robots for 3D printing, they can use it for other things, such as concrete milling and scanning buildings.
RD: You've notably created a bridge using this technology – in what other areas of architecture do you see it being applicable?
GvdV: Of course there's a multitude of different 3D printing techniques, like concrete or resins, coming into existence. And once you start really working with BIM [building information modelling], and once your design is digital and your manufacturing is fully digital, there's no going back – although it's still hard to predict what will be completely produced digitally in the future.
We are currently working on creating a digital twin of the bridge, using algorithms to inform us how can we produce more efficiently the next time. So I think once all building companies truly work digitally, that is when the gates for the robots will truly open.
RD: And after that? What kind of timeframe are we talking about?
GvdV: After that, I think it will take off pretty quickly. If everything is digitised, why would you still choose to do jobs manually?
In terms of a timeframe, I can see this happening within the next five years. We are going to see an enormous switch towards robots. And on the build sites themselves – as opposed to the factories – I think we'll start to see real economically viable solutions grow quite rapidly in the next three years or so.
We've already seen scanning robots, but I see many more tasks on the build site. And once these basic systems are complete, with robots working together in a complex environment like a build site, I can see them doing everything from drilling holes to painting walls.
RD: What kinds of architects are you working with at the moment?
GvdV: We're in discussions through our network with quite a few big names. Recently I gave a workshop at some of the bigger firms in London, including Norman Foster. We've also worked with Berenblum Busch Architects in the US, creating a cocoon-shaped outdoor bar at the Perez Art Museum Miami, made from stainless steel.
Who we really work with are the architects that are interested in really discovering new technology. Because there is not yet a definitive price and certification on everything we make, we really need architects to able to see the future and understand that they need to invest now to ensure they are the frontrunners in applying this tech once it becomes available on the market.
RD: How are you feeling about the upcoming presentation of the bridge at Dutch Design Week starting 20th October? Excited?
GvdV: Really excited. For us as a company – which is born out of a group of designers and design-minded people – this has been three years in the making, which feels like quite a long time, although for architects that probably seems like no time at all.
RD: Are you on track to install the bridge next year across the Oudezijds Achterburgwal?
GvdV: Yes. We're waiting for the renovation of the canal walls – which date back to the 15th century – to be completed. There is no fixed date for such a complex project, but we are confident that sometime in summer next year we can start installing.