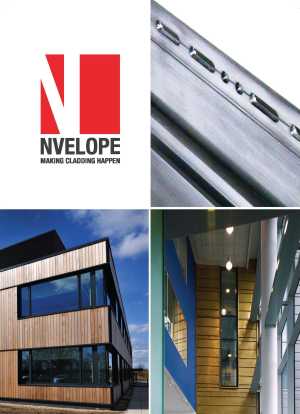 NVELOPE Rainscreen Systems is the new name for one of the market-leading companies in rainscreen cladding support systems serving architects, contractors and OEM's, previously known as Eurofox Engineering.
The move sets a fresh platform for the company to grow as the cladding sector continues to evolve, bringing greater clarity to its product offering for customers. NVELOPE will build on the acknowledged strengths of the Eurofox Engineering brand, including its reputation for quality products and fast, responsive service. The transition to NVELOPE is marked by the launch of a series of innovative products and systems, the introduction of dynamic project checklist specification software which covers pricing, thermal and static calculation and a comprehensive new look.
"For some time, we've recognised that the Eurofox Engineering name, for all its undoubted qualities, has its limitations," says NVELOPE's sales and marketing director, Mike Smith. "In contrast, NVELOPE Rainscreen Systems aligns us directly with the building envelope and focuses our customers on the products and services that we provide now and will expand on in the future."
"As we enter a new year, the rainscreen cladding sector is changing. Today, customers demand greater quality, choice, efficiency and value from the supplier in how products and systems are manufactured, specified, installed, delivered and supported. As NVELOPE we are much better positioned to meet these requirements with a versatile, quick to specify and simple to install, BBA certified range."
Manufactured in the UK and developed using the highest specification alloys, NVELOPE products and systems are ideal for supporting a wide variety of façade materials. These include high pressure laminate (HPL), timber, weatherboard, fibre cement, fibre concrete, ceramic, thin stone, aluminium composite material (ACM) and other metals. NVELOPE offers a wide variety of solutions for visible and concealed fix (both structural and mechanical) applications.
The company's range of rainscreen brackets and grid systems can be optimised for specific projects thanks to the expertise of its technical design support service. This ensures that NVELOPE can add real value to the design process, bringing architects and specifiers real freedom with an almost infinite range of façade appearance and layout options.
All NVELOPE support systems have achieved full BBA certification, are safe and manufactured under the ISO 9001 quality management system.