Greenline offers bespoke shade sails for a wide range of outdoor areas.
We design and manufacture shade solutions and outdoor learning and work environments for education, government and commercial sectors.
We custom-design covers in a range of materials, paints and finishes, as well as develop vandalism-resistant solutions that can be retrofitted to existing structures.
Single-post shading solutions for outdoor commercial and educational areas
Greenline's Star structure covers large areas using a single central or corner post.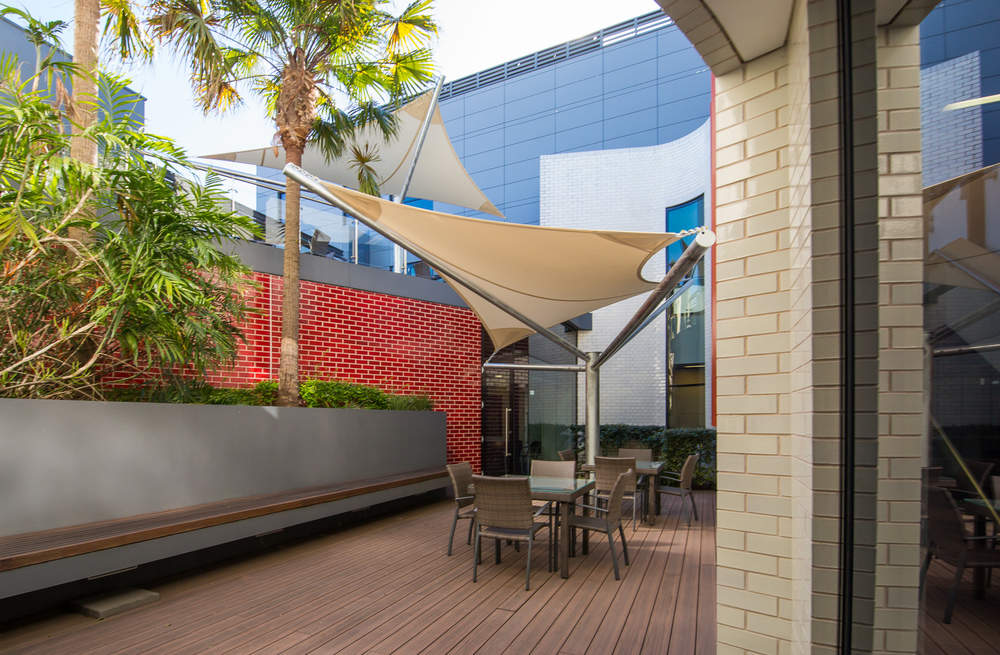 Melanoma Institute Australia, Sydney- Custom stars in Eating Area.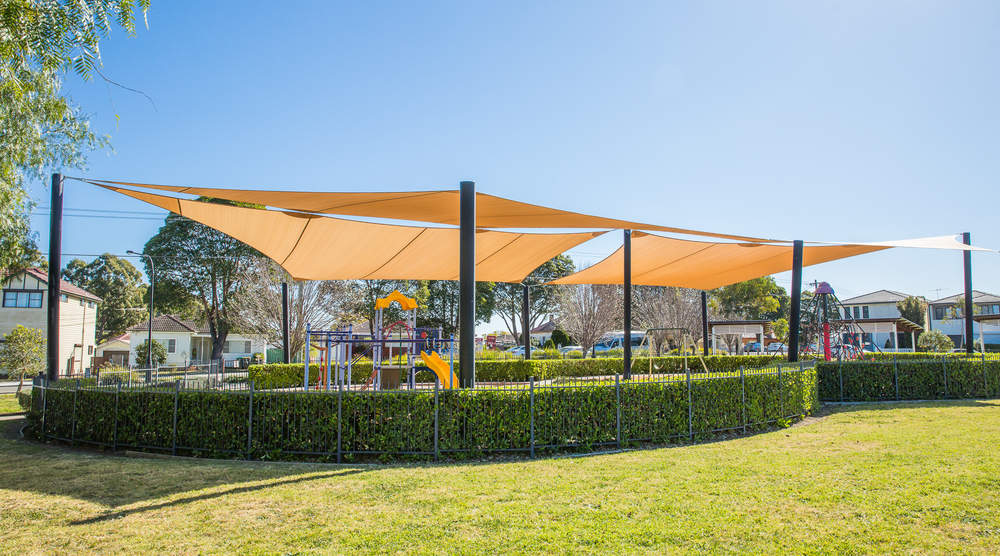 Rosherville Reserve, Sydney- Shade Sails.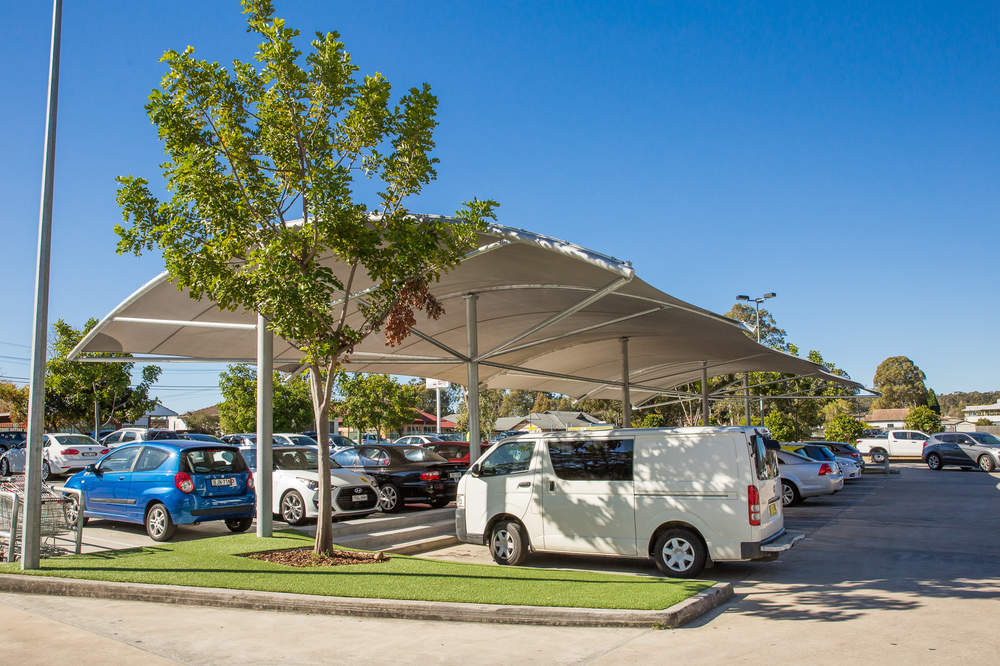 Aurora's IGA, Sydney – Split level cantilever carpark.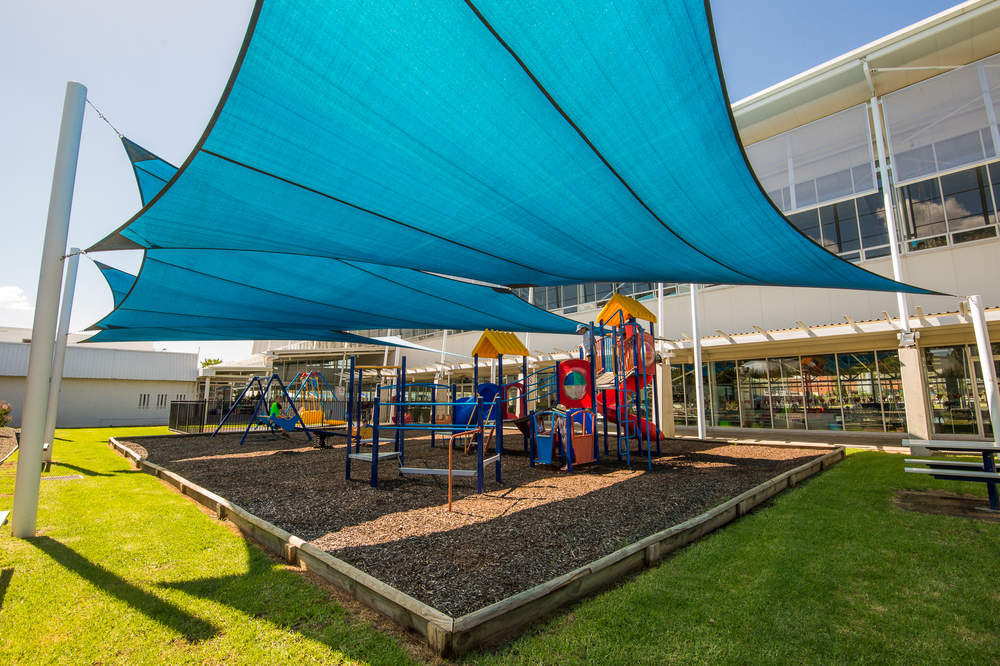 Oasis,Wagga Wagga- Inclusive Play area.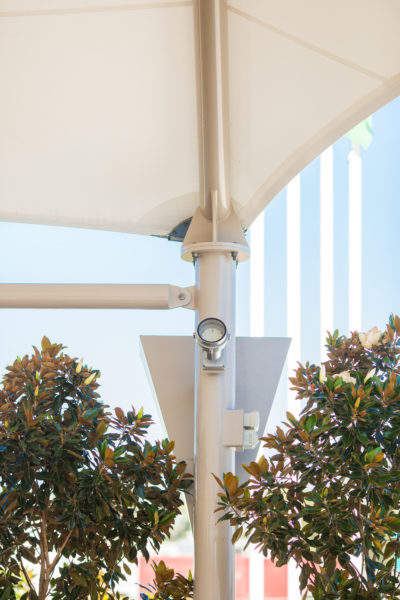 Richard Johnson Anglican College Eating Area – Gull wing cantilever.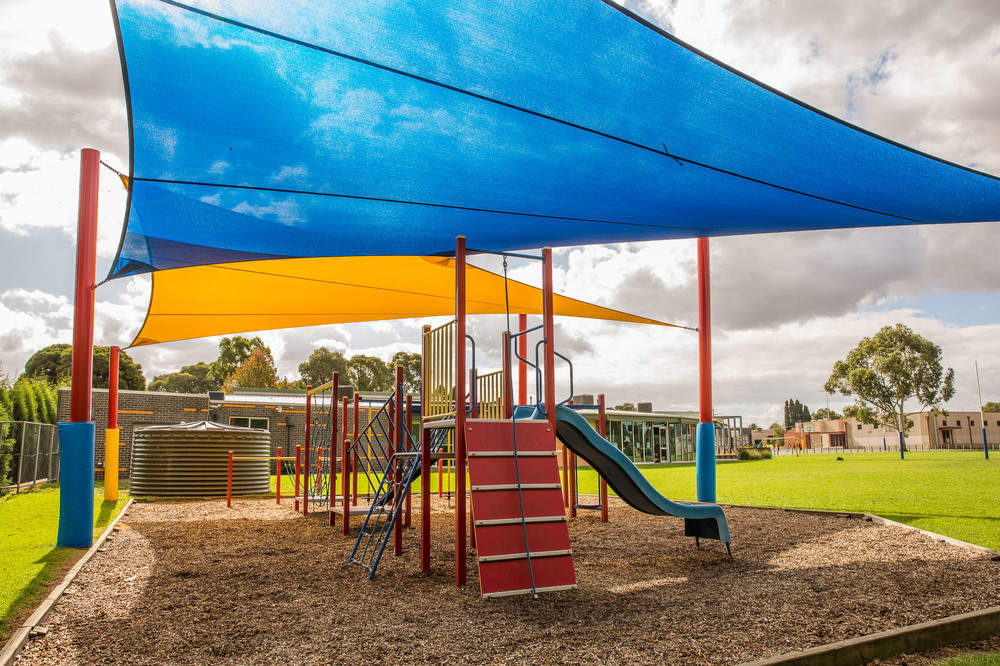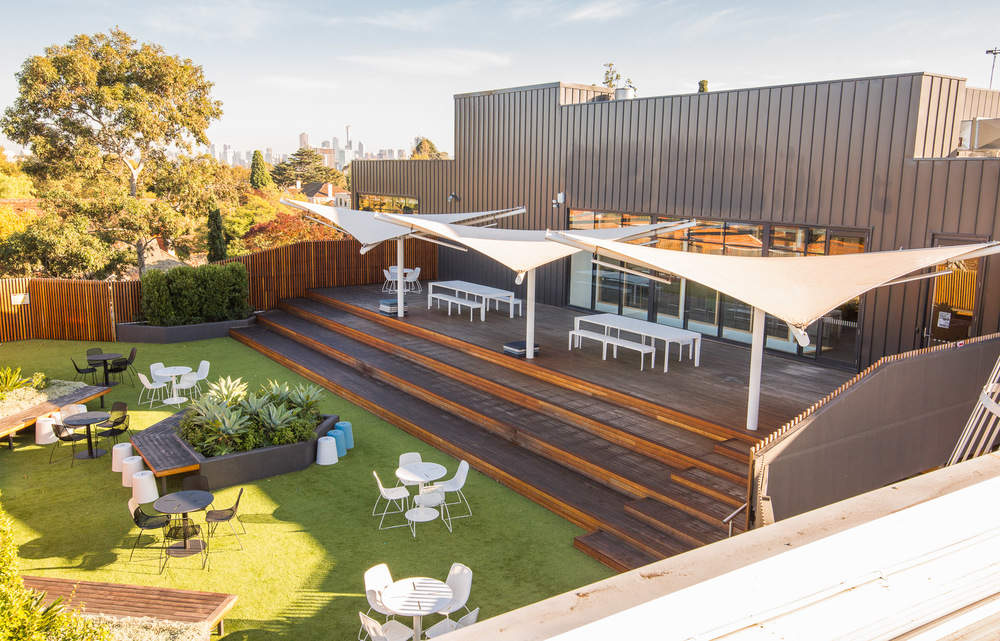 Loretto Mandeville Hall, Toorak, Melbourne – Outdoor Learning Environment.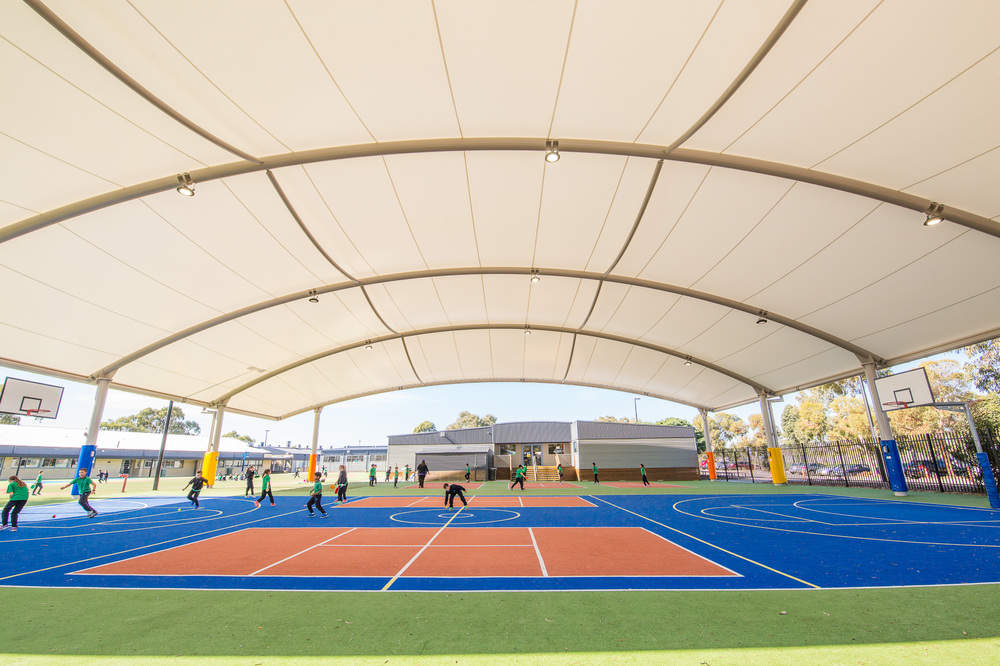 Marymede Catholic College, Melbourne- Barrel Vault Multi Sport Court.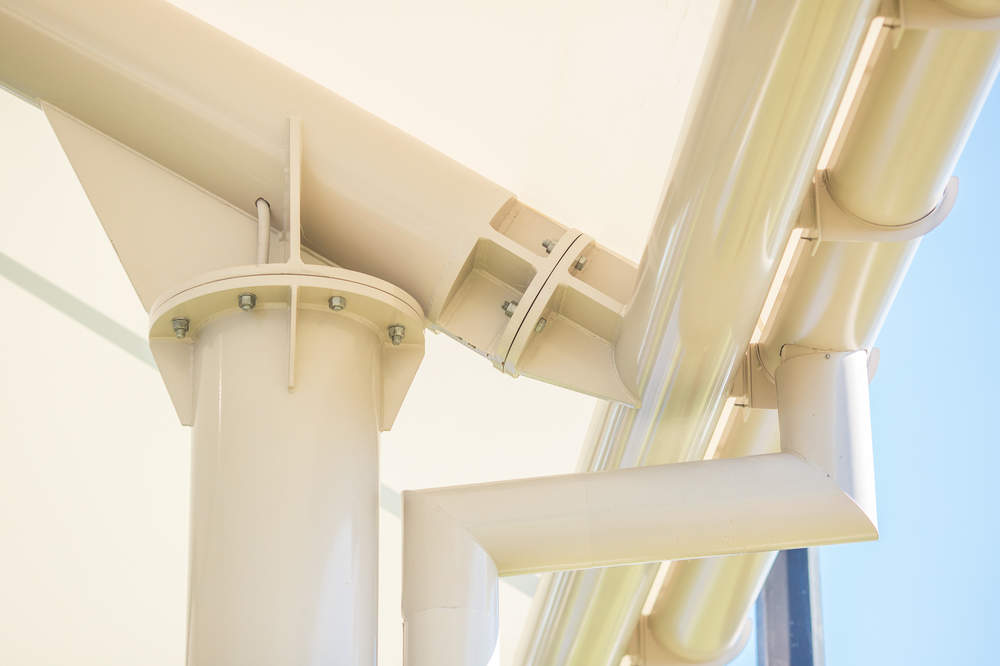 Detailing and plumbing integration.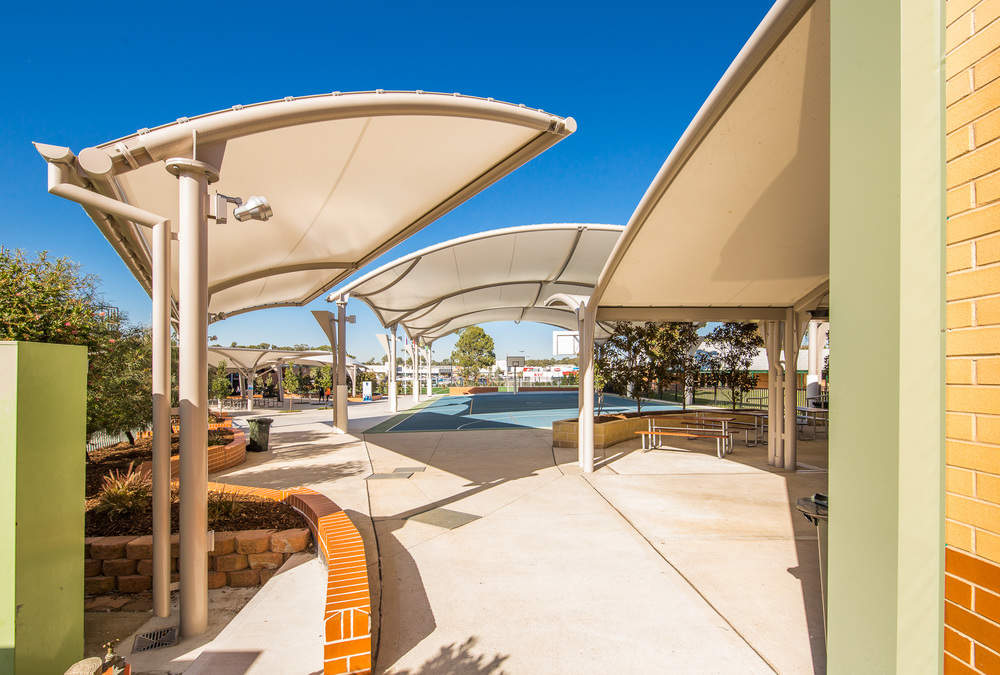 Richard Johnson Anglican, Sydney Cantilever through to sports barrel vault.
Providing optimal shading using minimal posts, it is highly effective as a single unit or retrofit modules across a site.
Available in a wide range of colour combinations, Star is suitable for applications in schools, restaurants/cafes, main streets, public parks and pool areas.
Large-span shading structures
Our Barrel Vault structure is suitable for areas where large spans are required, such as aircraft hangars, sports courts, swimming pools, and school playgrounds.
The flexible structure allows natural ambient light and anti-glare capabilities while blocking 100% ultraviolet rays (UVR), and is complemented with various options such as posts up to 10m tall to optimise visual impact, lighting and audio.
The Barrel Vault features shorter edges for optimal weather protection and can be manufactured in polyvinyl chloride (PVC), shade fabric or metal.
Flexible, twisted shade sails for recreational areas
Our cost-effective Shade sail offers flexible design, high UV protection and optimal area shading.
Available in PVC or shade fabric, the classic hypar (twisted) shade sail can be customised according to project requirements, making it the most popular structure used for play areas, outdoor areas, pools and parks.
Shading structures for outdoor car parks
Greenline Cantilever structures are a practical, stylish and durable shading option for car parks, pools and awnings for buildings, pavements and courtyards.
Available in metal, PVC or shade fabric, they comply with Australian standard AS2890.1, making them a popular choice for shopping centre car parks across the country.
Customised metal structures for outdoor learning areas
Greenline's metal roofs or covered outdoor learning area (COLA) structures are ideal for schools that require waterproof cover for sports courts or playgrounds.
Our durable and cost-effective COLAs incorporate safety features such as concealed footing connections, high vandalism-resistance, bird proofing capabilities and no sharp post edges. Skylight and acoustic panelling options are also available.
Powder-coated or galvanised steelwork offers both longevity and visual appeal.
Clearance heights and overhangs can be customised to optimise on-site usage and you can integrate a traditional gable or curved style to fit in your existing areas.
Pavilion-shaped shading structures
The high centre peak of our Conic shade structure provides a visually aesthetic feature, creating a unique ambience for educational or pool areas.
Also known as a pavilion shape, large areas can be covered with minimal columns, enabling optimal space.
Available in PVC or shade fabric, Conic's low perimeter provides high all-day shading and its high centre point creates a spacious feel without affecting weather protection performance.