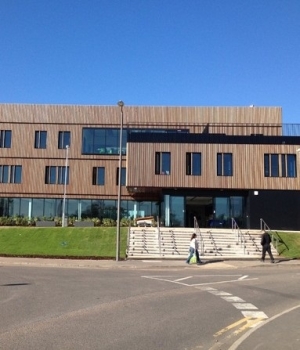 The design of Wolverhampton's newest school, South Wolverhampton and Bilston Academy, includes the extensive use of external Siberian larch cladding protected with Lonza Wood Protection's Non-Com Exterior fire retardant.
The facade of the new academy building is made up of 50,000 linear metres of Siberian larch provided by Berkshire-based BCL Timber Projects. As well as providing an attractive facade, this wooden rainscreen cladding protects the building against water damage and traps a layer of air as additional thermal insulation.
The timber is protected with Lonza's Non-Com Exterior fire retardant, which provides a proven and highly effective Euroclass B surface spread of flame protection, without affecting the external appearance of the wood. Non-Com Exterior is a polymer-based formulation applied by vacuum-pressure impregnation, and timber treated with it can then be used with or without additional coatings.
BCL Timber Projects owner Brian Barrett says: "The Non-Com Exterior protection meets all the British and European standards that we require, and leaves the timber virtually unchanged, making it ideal for external cladding on dramatic projects like this one."
The £25 million school, part of Wolverhampton's Building Schools for the Future Programme, opened in September this year. South Wolverhampton and Bilston Academy has been designed by Capita Architecture and will house 1200 pupils in four themed 'skill zones', with an engineering hub, lecture theatre, science 'super lab', training kitchen, drama and music studios, and classrooms, seminar rooms and other spaces.