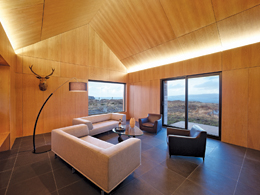 Lonza Wood Protection is pound to announce its DRICON fire retardant treatment is protecting the oak wood used in a beautiful award-winning home at Boreraig, on the Isle of Skye. The building, inspired by the blackhouse, a traditional style of Highland architecture, was designed by architect Neil Stephen of Dualchas Building Design to reflect the local landscape and heritage and to be a quiet and restful retreat for its Buddhist owner.
The house, facing a lochan and with views across the island, is lined throughout with oak-faced ply vacuum-impregnated with the DRICON fire retardant, creating a clean, minimal and attractive finish. The oak-finished panels spring open to reveal concealed shelves and storage areas to maintain the minimalist feel of the design. The wood was supplied by the timber contractors and shipped to Lonza Wood Protection for pressure-treating with the DRICON treatment before being returned to the site, ready for use.
A water-based fire retardant applied by vacuum-pressure impregnation in factory-controlled conditions, Lonza's DRICON product is the only BBA-certificated fire retardant treatment for timber and plywood. It also offers a high level of resistance to humidity, vital in the weather conditions found in the Scottish Highlands.
Dualchas Building Design architect Mary Arnold-Forster, who also worked on the project, said: "We specified the use of Lonza's DRICON fire retardant treatment for the project as it meets the required building regulations, and is easy to work with. We have used DRICON on other projects, including on birch-faced ply for a community hall on the Isle of Raasay and a house on Scotosay, Outer Hebrides. It's a very good product, and we prefer it to the fire retardant coatings that have to be applied on site because of its controlled application, assured durability and no need for further maintenance. We have recommended it to a number of other architects."