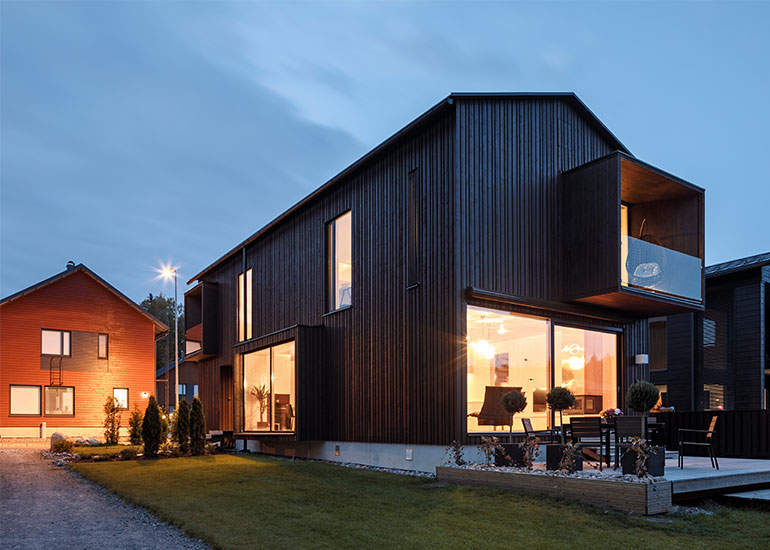 When you think of a wooden house, what do you see? Many of us will imagine a small wooden cabin, or possibly a quaint old house in the countryside, undisturbed by the modern world. But a wooden home has many faces.
Imagine a high-rise, multi-storey apartment building in the middle of a city – made from wood. Or perhaps an extension to an existing building adding more space for new homes – built with wood.
"Concrete, steel, and bricks represent between 8-15% of global greenhouse gas emissions so when we can replace or compliment non-renewable construction materials with renewable wood, we are combatting global warming," says Mathieu Robert, Head of Building Solutions business at Stora Enso.
"Wooden homes store carbon for decades, or even centuries. Wood is recyclable like many other materials, but recyclability is no longer enough – wood is the only major construction material that is also renewable."
Wood is renewable when it comes from sustainably managed forests where harvested trees are always replaced by new growth. 100% of the wood Stora Enso buys comes from sustainable sources, and we use a variety of tools to verify this.
An ancient material with modern improvements
For thousands of years, wood has been a popular material for building homes but because of increasing resource scarcity and global warming, it has never been as relevant as today. Wood engineering has removed many historical challenges formerly associated with wood such as durability and fire safety.
"Today, we can calculate the strength of massive wood products like cross-laminated timber (CLT) and laminated veneer lumber (LVL)," says Robert. "This has made it possible to build modern high-rise apartment buildings with wood, some as high as 85 metres so far. And massive wood elements don't actually burn – they char with a speed that can be calculated."
Wooden skyscrapers may feel like a utopia but they are not far in the future.
"With lightweight wood, we can also add floors to existing buildings in densely populated areas and help transform office spaces into homes with dividing walls," says Robert. "This helps us respond to global challenges such as housing shortages that often come with growing populations and urbanisation."
Less weight also means less transportation to the site which reduces greenhouse gas emissions and means less disturbances for the communities around the site.
A warm and healthy home
A home built with wood comes with wellbeing benefits. Did you know that wooden interiors can regulate indoor air humidity? Or that massive wood products can build energy-efficient homes, reducing energy use?
Wooden interiors also seem to have a calming effect on blood pressure, and according to studies, children in wooden schools experience less stress, have fewer conflicts, and concentrate better.
Wood can also heat your home. All Stora Enso mills use residual biomass, such as sawdust and bark, from production to generate energy and there is often more heat produced than needed at the mill. The excess heat is sold to district heating systems around many of our mills in Finland, Sweden, and Austria – helping towns and cities replace fossil-based fuels with renewable energy.
Where district heating is not possible, single-family homes can also be heated with wood. But while a fireplace is a beautiful sight, we would rather use that firewood for other things – like building your home or making your juice carton – and then take the excess sawdust and wood shavings from that process and make them into pellets.
"Pellets are a highly energy-efficient way to heat a home," says Marion LeRoy-Loikala, Product Manager for Stora Enso pellets.
"We make them by pressing wood shavings, wood chips, and sawdust into small pieces that can be burned for renewable heat in a suitable oven – replacing fossil-based solutions like oil."
Wood can build a home, make it healthier, keep it warm, and help combat global warming – all the while looking gorgeous.