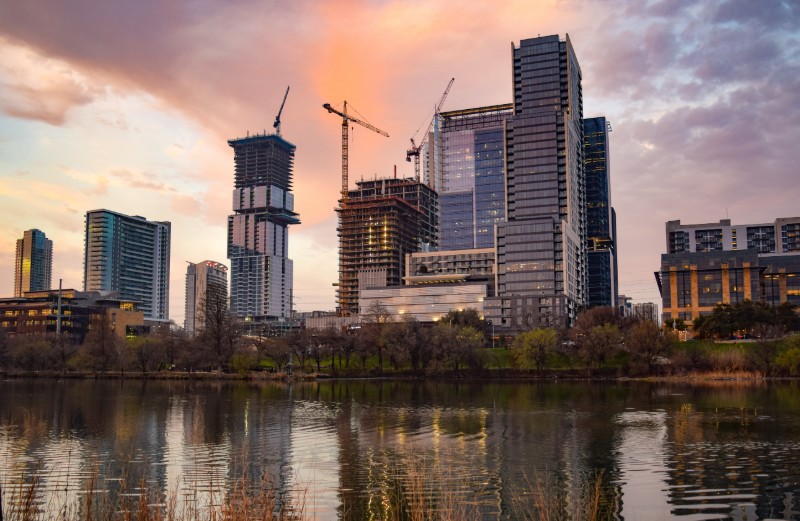 Texas' Governor Greg Abbott is pressing ahead with one of the most aggressive reopening plans in the US even though the number of new coronavirus cases continue to rise, and testing is in particularly short supply across the state. On 26 May, Mr Abbott issued a decree to expand additional services and activities that can open under the Phase II of the state's ongoing plan to safely and strategically open Texas while minimising the spread of Covid-19. Starting on 28 May, water parks, can reopen but must limit their capacity to 25% of normal operating limits while recreational sports programs for adults can resume activity from 31 May.
Mr Abbott issued an executive order on 31 March ordering Texans to stay at home except for essential business. The order, which took effect from 2 April, deemed construction activities as essential and overruled the Austin-Travis County 'Stay Home, Work Safe' order that was issued days earlier and prohibited most types of residential and commercial construction to carry on.
On 1 May, that order expired, and businesses such as restaurants, malls, movie theaters, and retail stores were able to reopen for the first time after a month as part of the governor's first phase to reopening the Texas' economy. The governor said that all services must limit their capacity to 25% of their listed occupancy and follow social distance protocols although restaurants were allowed to increase their occupancy rate to 50% from 22 May while bars were allowed to reopen at 25% occupancy.
Mr Abbott's plan to reopening Texas' economy comes amid significant pressure from public authorities and the business community to get people back to work as the number of jobless claims continue to increase across the state. In April, people took to the streets to demand an end to the lockdown restrictions while fellow Republicans denounced Governor Abbot for moving too slowly to reopen the state. Although the governor has acknowledged that his decision to reopen Texas would likely lead to more infections, he pointed to the state's low hospitalisation and positive test rates as reasons for optimism.
However, Texas has fallen short of its 30,000 target of tests per day while health experts have warned that the state has yet to see a peak in its death rate from Covid-19. On 15 May, Texas reported the largest number of new confirmed cases in just one day, with 1,818, and 44 fatalities, according to the New York Times.
While construction has been allowed to carry on across Texas since the Covid-19 outbreak started, an increasing number of projects in the bidding or final planning stages are being postponed due to the rapidly declining demand for new buildings and uncertainty surrounding the economy. As of 27 May, there were a total of 349 construction projects delayed, on hold or abandoned in Texas' biggest cities: Houston (133), Dallas (113), San Antonio (59) and Austin (44), according to ConstructConnect.
Also, amid health and safety issues and concerns at construction sites, work that would normally take two to three days are now taking five to six days as the local industry learns to adapt to balance safety with business demands. Health officials across Texas have been reporting that the state's decision to allow all construction activities to move forward during the pandemic has led to a surge of new Covid-19 cases among construction workers and their families. At the same time, supply chain disruptions, and difficulty in obtaining permits or securing financing is also hurting the industry.
Before the pandemic, Texas was experiencing a year-long construction boom in the housing market, with Houston, Dallas, and Austin being among the country's top ten markets, according to Texas Association of Builders but the closure of nonessential businesses in March to limit the spread of Covid-19 have led to record job losses in April, indicating that the recovery of the market will be slow.
For the week ending 9 May, Texas reported 134,381 new jobless claims, bringing the total of claims to nearly 2.1 million since 14 March, according to the Department of Labor. Moreover, preliminary data from the US Bureau of Labor Statistics showed that nonfarm payroll employment fell by 1,298,900 in April, with the construction industry losing about 62,500 jobs over the month.
The economic crisis triggered by Covid-19 has also led to the collapse in global energy demand and made it more difficult to secure financing for energy projects; federal tax credits for renewables are waning while local electricity consumption is declining. This has caused many developers across the state to defer their final decisions on new energy projects; putting billions of dollars of investments and construction jobs at risk.
Besides being the US capital for oil and gas, Texas also leads the nation in wind-powered generation and is now on its way to have the second-most solar power capacity in the country after California. US shale oil fracking has been a major driver of electricity demand in Texas and has helped to spur investment in renewables in the past decade but the renewable boom that the industry was experiencing before the pandemic may be fading as the oil industry faces its worst downturn on record.
The Associated General Contractors of America has urged federal and state officials to boost investments in infrastructure to help put more people back to work amid the rising unemployment levels. Governor Abbott has also called on Congress to take immediate action to protect Texas' employers and the healthcare industry given the record unemployment levels and unprecedented economic crisis.