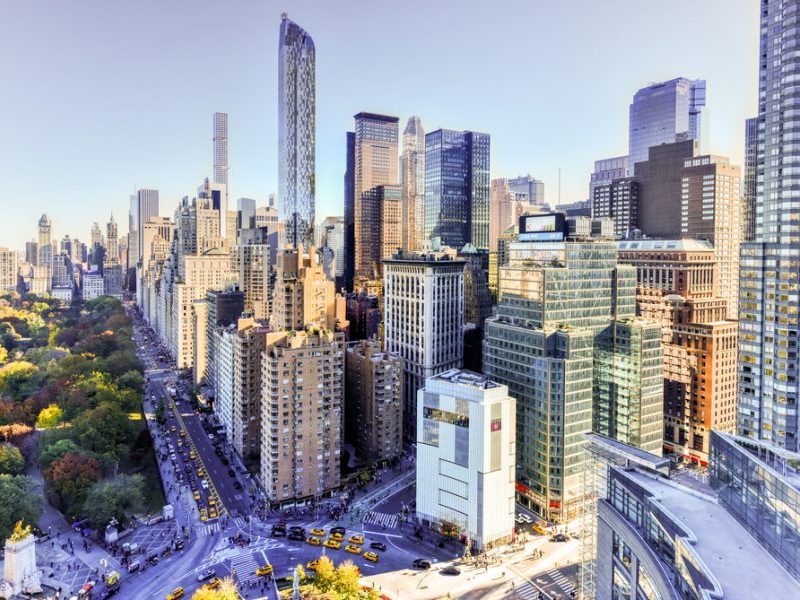 After initially deeming all construction activities essential under the "New York State on PAUSE" executive order on 20 March amid the coronavirus outbreak, a new order was announced on 27 March by New York Governor Andrew Cuomo to close all non-essential construction sites until at least the end of April.
Under the new order, only 'essential' projects such as schools, hospitals, public housing, approved works, homeless shelters, affordable housing, and utility were allowed to go forward.
On 3 April, the New York City's Department of Buildings, which is responsible for implementing the governor's mandate, published an interactive map showing a list of all "essential" projects that were allowed to continue in the city in order to help differentiate the essential from the nonessential projects; and warned that non-compliance will result in a violation and fines of up to $10,000. As of 20 April, there were a total of 4,581 essential construction projects allowed to carry on, including 361 affordable housing projects, 1,423 approved works, 492 hospital projects, 923 public housing projects, 1,188 school projects and 82 utility projects.
Nevertheless, the rest of the construction projects, including the majority of the new 4,000 real estate projects that were under construction across New York City, have been ordered to stop as they were considered non-essential under the new state order; forcing many developers to renegotiate their contracts with lenders and source funds to recapitalise their buildings and buy more time.
The situation for some developers, especially those at the high end of the market, who were already struggling with a drop in demand from foreign buyers and an oversupply of new luxury projects (e.g. condo towers), has been significantly aggravated with the lockdown restrictions, affecting not only their construction works but also their sales.
With real estate agencies closed, many developers are now relying on estate agents giving online tours to sell their properties but this has proven to be highly ineffective, as most buyers want to see the property in person before agreeing to anything.
Many developers are seeking legal advice as they renegotiate contracts with lenders and find out whether they are entitled to federal support while others are trying to get their projects (either rentals or condos) exempt from the current rules. A day after the new state order came into effect, the city's buildings department received over 900 such appeals.
Also, with over $1bn in signed contracts at risk in just Manhattan, developers are calling for Mr Cuomo to issue a new executive order that will allow timeline extensions for construction projects and sales as they fear that buyers who have already signed contracts to buy new property units could withdraw their deals without losing their deposits. However, even if that executive order is passed, the longer the lockdown restrictions stay in place the harder it will be for real estate developers to quickly recover from the prolonged closures of their construction sites.
On the other hand, if the lockdown restrictions end soon, and all construction sites are allowed to carry out their work, developers will still have to deal with supply chain issues and difficulties in obtaining building permits and inspections as the full scale of the economic effects of the coronavirus pandemic is still unknown.