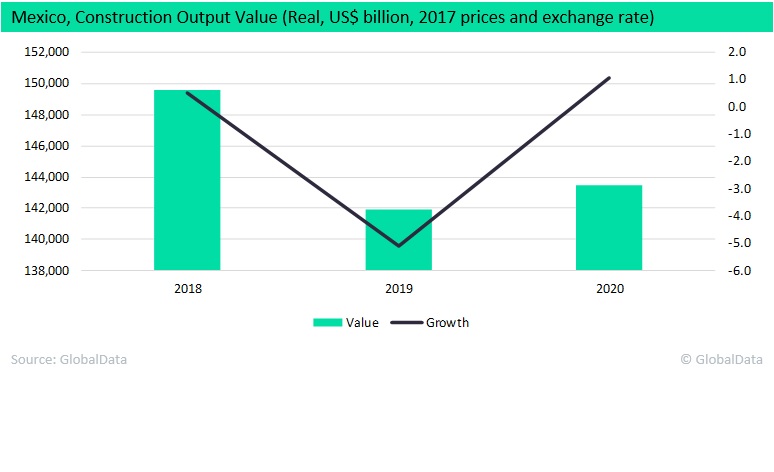 Mexico's construction industry is forecast to recover in 2020, to grow by 1.1%, following an estimated contraction of 5.1% in 2019, says GlobalData, a leading analytics company. Growth is expected to be driven by the government's efforts to boost public and private investments in infrastructure.
In November 2019, the government unveiled the first phase of its ambitious US$42 billion National Infrastructure Plan for 2020-2024 aimed at raising infrastructure investment to more than 5% a year and delivering annual economic growth of more than 4% over the coming years.
The plan, which was launched a day after new official data revealed the economy had tumbled into recession, consists of 147 projects in roads, railways, airports, and ports as well as telecommunications, with most of the capital coming from the private sector.
However, uncertainty over the policies of President Andrés Manuel López Obrador (also known as AMLO) will continue to hurt investment and impact on the industry's growth this year.
AMLO, a leftist nationalist who took office in December 2018, has clashed repeatedly with businesses, despite his claims that he respects and needs private investment.
His decision to cancel the partly-built $13 billion airport for Mexico City, shortly before taking office, has hit the country's building industry, unsettling investors, and raising fears his administration may not respect contracts in the future.
He has also sought to roll back from some of the business-friendly reforms implemented by his predecessor, Enrique Peña Nieto, who passed an energy market liberalization reform in 2013, impacting not only the country's power generation but also its oil and gas industry. Since taking power, he has suspended a number of renewable power and oil and gas auctions and renegotiated contracts with international gas pipeline companies. And most recently, he announced that his government was not contemplating reopening auctions this year for oil and gas blocks.
Furthermore, in December 2019, the Federal Electricity Commission, the state-run utility company, announced it was seeking to cancel some self-supply power contracts that allow companies to generate electricity for their own businesses, using mostly solar energy or natural gas and said it was also looking to eliminate discounts on transmission costs for power generators to use its network, incensing the private sector and marking the latest blow to the country' s promising renewable energy market.
If approved, the measures would remove investment incentives for the private sector to invest in new green projects and hurt the electricity market by reducing investment in renewable energy and raise electricity costs for consumers.
It would also affect hundreds of contracts with local and international power generators including Iberdrola SA, Enel SpA and Acciona SA, among others. According to the Mexican Wind Energy Association, the self-supply contracts in operation account for $16.2 billion in investments, of which 57% are renewables.
Although the recent approval by the US senate of the United States-Mexico-Canada Agreement (USMCA) trade deal constitute an upside risk as it should reduce uncertainty as well as boost Foreign Direct Investment and improve the domestic investment climate, it is unlikely to be sufficient to increase private investments. Mexico's government will need to start to respect contracts and stop sending mixed messages over public policies as well as take more concrete policy actions to tackle security issues, strengthen the rule of law, and reduce corruption – if it is to restore investors' confidence and create a more favourable environment for investment.
Moreover, the major infrastructure projects that were announced last year have yet to be reconciled with more credible measures to meet the administration's fiscal targets and the objective of stabilising public debt.
An unsettled external environment will continue to complicate policymaking: A slowdown in US growth, for example, arising from increasing global trade tensions; and global financial market volatility present significant risks for the Mexican economy while a decline in oil revenues due to lower oil prices, will make it harder to achieve the government's fiscal targets.