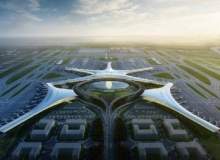 UK-based architectural firm Atkins and China Southwest Architectural Design and Research Institute (CSWADI) won a contract to provide the conceptual planning and terminal design of the new Qingdao airport.
Atkins said that Qingdao airport is one of the largest of five airports approved by the national development and reform committee (NDRC) for development.
The contract is valued at RMB35bn ($5.7bn), with the total budget for the development of all five airports estimated at around RMB150bn ($24.7bn).
Upon its scheduled completion in 2017, Qingdao airport will serve as a main regional hub and enhance the aviation capacity for both passengers and cargos.
The Queensland Government and Gold Coast City Council selected ASF Consortium as the preferred developer for the integrated resort development Broadwater Marine project in Australia.
Broadwater Marine aims to boost investment and tourism in Queensland with a 50-storey high-rise, mega cruise ship terminal on state government land on The Spit, in the Broadwater area.
In addition to residential developments, the project will also include a hotel, marina and super-yacht facilities, retail entertainment, hospitality, community open spaces, recreation facilities, bridges and an innovative dredging model.
The University of Cambridge in the UK selected Aconex to provide project collaboration solutions for its £1bn north-west Cambridge development.
The 15-year master plan for the 150ha development will feature 3,000 homes, 2,000 student beds, a local centre with a supermarket and retail units, and 1mft² of academic, research and commercial space.
Plans also include a primary school, nursery, a community centre, doctor's surgery, hotel and senior living, as well as substantial landscaping and open space for recreation and leisure.
The first phase of the development will include a mix of apartments and houses ranging from 65 units to up to 400.
Arabtec Construction secured a AED22.44bn ($6.1bn) contract to design and build 37 towers in Abu Dhabi and Dubai.
A memorandum of understanding (MOU) was signed between Arabtec Holding and Aabar Properties, a subsidiary of Aabar Investments.
The 37 mixed-use, residential and hotel buildings will include nine towers in the Tomouh City of Lights development in Abu Dhabi and four towers in the Reem Island development.
Arabtec will also build 14 residential towers, including two in Rawdhat Abu Dhabi on a 64,673ft² plot, seven at Al Raha Beach on a 1mft² plot, three in Maysan on a 160,000ft² plot and two in Shams on a 200,000ft² plot.
The company will also construct a five-star hotel under the Hard Rock International brand at Abu Dhabi's cornice, with a total plot area of 18,858ft².
Construction firm Mace completed IC Holding's Hilton Bomonti Hotel and Conference Centre in Sisli, Istanbul.
Designed by GA Design of London, the hotel features 829 rooms over 34-storeys and a 12,000m² conference and event space.
The Hilton Istanbul Bomonti Hotel & Conference Centre has the largest pillar-free ballroom in the city, with the capacity to hold more than 6,350 guests.
Architectural firm Bjarke Ingels Group (BIG) and Allard Architecture, along with three other global firms, unveiled their shortlisted proposals for ArtA, a cultural facility to be built on the edge of the Rhine in Arnhem, the Netherlands.
The other global firms include Japanese architect Kengo Kuma and NL Architects.
ArtA, previously known as The Arts Cluster, is part of a larger redevelopment project in Arnhem that aims to reconnect Arnhem city with its waterfront.
Nakheel-Mall600.jpg" style="padding: 8px" width="80″ />
Real estate developer Nakheel received six proposals for the construction of its AED2.5bn ($680m) retail, dining and entertainment complex on Palm Jumeirah in Dubai, UAE.
The company said bids started at AED1.185bn ($322m) and the contract for construction of the project is expected to be awarded within three months.
The Nakheel Mall 418,000m² development will be constructed on an area of about one million square feet at the centre of Palm Jumeirah, which is located at the northern end of the island's trunk.
Nakheel Mall will comprise five levels with 100,000m² of retail space for 200 shops.
London-based architect firm design Rogers Stirk Harbour + Partners unveiled the design of a new football stadium in Venezuela.
Developed in collaboration with Arup and Schlaich Bergermann ind Partner, the new Estadio Nacional de Fútbol de Venezuela will feature a brightly coloured bicycle wheel canopy roof.
Located at the top of a hill, overlooking the city centre to the north-east, the new stadium forms part of a master plan for the region called La Rinconada, which is located towards south-west of Venezuela's capital.