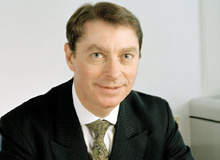 The technology director of The Carbon Trust, an independent company founded by the UK government to accelerate transition to a low carbon economy, has a stark message: "Climate change is happening now and reducing global CO2 emissions is key to global survival."
This is not Vincent's usual audience. "It's rather an unusual scenario for a chemical physicist to address a room full of architects," he jokes, "but it does offer me a wonderful opportunity." Vincent has come not only to dissuade sceptics, but to discuss the challenges of low-carbon buildings, market considerations and further implications for the building industry.
"Will sustainable housing have kerb appeal when compared to traditional homes?"
The lecture begins with a bombardment of statistics and images: melting ice caps in Antarctica and Greenland; the disappearance of Alpine glaciers; extreme weather conditions in the UK; and an array of charts plotting emission growth and future targets.
"When the trendline is moving systematically away from the norm," he comments, "you have to start asking questions. There are still uncertainties but one thing is for sure: we cannot keep going along with business as usual."
REDUCING CARBON EMISSIONS
Vincent then puts these facts into context for his audience. "1.8 million non-domestic buildings and around 24 million dwellings account for 47% of the UK's CO2 emissions," he reveals.
While acknowledging that the business argument for investing in reduced carbon emissions remained 'unconvincing in many cases', Vincent steadfastly believes that it is the market and professionals who need to drive change. "Committed and enthusiastic individuals are great," he claimed. "We do not have time for individual action to percolate into the market place."
The statistics are compelling: one-third of all UK homes in 2050 will have been built between now and then. "This is a wonderful opportunity," says Vincent, "but do you have the requisite skills and have you made this issue an incremental part of your thinking?"
Concerns such as the UK not having a single manufacturer of triple-glazing might suggest not, and our speaker is willing to concede that as many questions as answers remain: "We're still trying to work out what the ideal combination of measures should be. Will sustainable housing have kerb appeal compared with traditional homes? Will it be affordable and bankable? Can it be mass designed and built to high standards? And do we have the necessary skills to go zero carbon?"
SUSTAINABLE BUILDS
Vincent looks towards four British sustainable builds for answers: Hockerton housing in Nottinghamshire, Titanic Mill near Huddersfield, the National Assembly building in Cardiff and Beaufort Court in Hertfordshire. Although enthusiastic about these developments, he exhibits their difficulties as an invaluable source for assessing the state of play.
Vincent believes that 'the greater the ambition, the greater the risk' and counsels balancing exuberance with pragmatism. It is also clear that while renewable suppliers are extremely keen, it remains a cottage industry and lacks in-depth understanding of the building sector.
"Climate change is happening now and reducing global CO2 emissions is key to global survival."
These issues will be difficult to rectify if low-carbon buildings continue to be adopted so slowly. Vincent discusses a 'circle of inertia', incorporating investor, developer, tenant and contractor, claiming that stepping stones and a strategic plan to manage risks and uncertainties were needed. But he also sees room for optimism. "The large corporate sector wants to display its green credentials and will drive the market for green energy," he begins. "Let's see you meeting those demands."
He also addresses the suppliers, fearful that the green movement will lead to their products becoming obsolete: "As we drive standards up some products will fall away," he admits. "Others will be needed to come in and replace them, however, and this has to be seen as a massive opportunity."
THE FOOTPRINT OF THE FUTURE
Government legislation is also accelerating change. "The UK hopes to have reduced CO2 levels by 60% by 2050," Vincent begins. "What we need to look at is how these regulations are working on the ground and where we need new skills. Look at developments in London alone –the supply chain needs to be up to the job. It is only through the government and the building industry working together that we will be able to reduce carbon footprints sustainably and profitably."
Leaf London ran from 30 January – 1 February, 2007. The event brought together top architects and suppliers from across the globe looking to strengthen their knowledge of the UK market. Running alongside prearranged one-to-one meetings and network opportunities was a seminar programme that concentrated almost exclusively on the sustainability issue.
LEAF 2007 will take in place in Rome from 13-16 September.