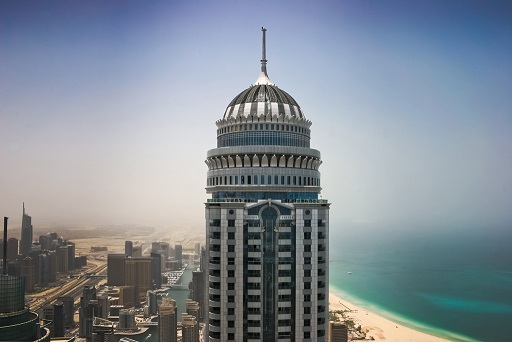 Princess Tower in Dubai, UAE, developed by the property group Tameer Holding Investments, has been recognised by Guinness World Records as the world's tallest residential building.
The 414m tower, topped with a crown, is located in Dubai Marina among other major projects like The Palm, Burj Al Arab, Madinat Jumeirah and The World Island.
The tower stands at 107 storeys, including basement floors, a ground floor and 100 above ground levels, despite originally being proposed as a 90-storey building.
Princess Tower occupies an area of 37,410ft² and houses 763 apartments, including one, two, three and four bedroom apartments, in addition to duplex penthouse apartments overlooking the Palm Jumeirah.
The development features indoor and outdoor swimming pools, car parking, eight commercial retail outlets, billiard and table tennis rooms, children's play areas and gymnasiums.
The 97th floor features a panoramic full-floor function area.
Tameer handed over Silver Tower in Dubai in December 2011 and is currently working on Regal Tower.
Tameer's two residential towers in Dubai Marina – Elite Residence and Princess Tower – are entering their last phases.
Dubai already has a Guinness World Record to its name for the tallest building in the world – the 828m, 160-storey Burj Khalifa.
---
Image: The 414m high Princess Tower houses 763 one, two, three and four-bedroom apartments.. Photo: Tameer Holding Investments.