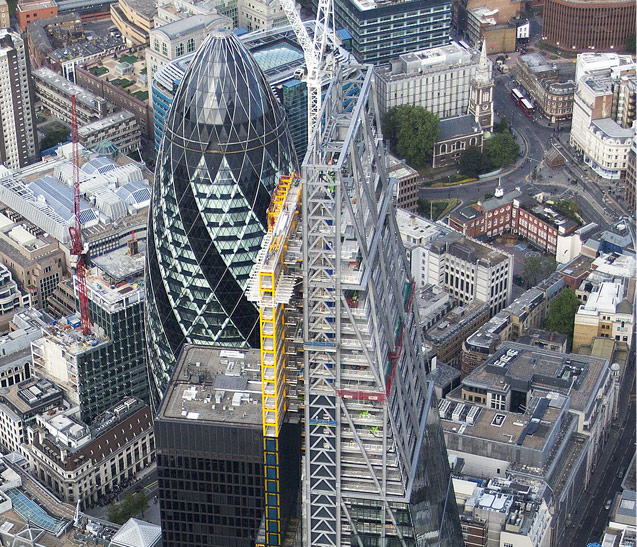 The Leadenhall Building in London, UK, designed by the architectural firm Rogers Stirk Harbour + Partners, has been topped out.
The 224m-high tower, also known as 'The Cheesegrater' has been constructed in a joint venture between British Land and Canadian real estate firm Oxford Properties.
The building incorporates 18,000 tonnes of steel and 70,000m² of cladding and will feature 610,000ft² of office space over 47 floors once completed.
The Leadenhall Building has no central core, with an external mega frame providing lateral stability and the 26 passenger lifts housed in its Northern Core.
The building's tapered profile has been designed to protect the sight line of St Paul's Cathedral.
London Mayor Boris Johnson said the project has created jobs in London and elsewhere across the UK, supporting British manufacturing all over the country.
"The building's soaring pinnacle symbolises the confidence in London's status as a global centre of finance and trade," Johnson said.
The building's floor plates range from 16,000ft² on the lower floors to 6,000ft² at the top of the tower.
British Land said main contractor Laing O'Rourke has constructed 85% of the structure off-site.
The building, which is now 51% pre-let, has been under construction since early 2011 and is expected to be completed by mid-2014.
Insurance firm Aon has agreed to occupy 191,000ft² on levels 4-13 of the tower and also plans to take a further 85,000ft² space.
Amlin has also signed non-binding heads of terms on 111,000ft² of space on levels 18-24 and level 45, with options to take a further 36,500ft².
---
Image: The 224m-high Leadenhall Building is expected to be completed by mid-2014. Photo: Courtesy of British Land.