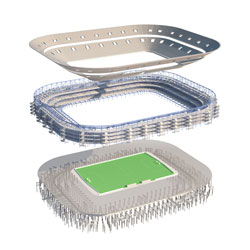 Netherlands-based construction and engineering firm Ballast Nedam has unveiled a modular stadium concept which can be adapted to changing needs and reused in another location.
The company said the concept, known as Plug & Play Core, was developed for ease of dismantling, transport and reuse of the stadium core, in a wide variety of designs.
The elements include three types of Plug & Play Core module which can be easily transported.
A stadium module consists of a steel main structure with floor and stand elements, which will allow designing of the structure in any desired shape.
Plug & Play Core complies with UEFA and FIFA requirements for stadiums.
The company said the modular concept has been designed with the entire lifecycle of the stadium in mind.
Ballast Nedam said, "The essence of Plug & Play Core is that the stadium complies with the requirements for permanent use but with a core that is fully reusable and transportable."
"A Plug & Play Core stadium can be used elsewhere in the world when the World Cup is over, possibly with a different modular configuration," the company said.
Plug & Play Core can be used for building different structures, from complete stadiums to small stands.
Ballast Nedam said that it has developed the design based on its experience in developing different size stadiums across the world.
The company developed three stadiums for the 2004 UEFA European Football Championship in Portugal, including the UEFA Elite stadiums in Lisbon and Porto which have 52,000 seats.
Ballast Nedam said Plug & Play Core also addresses the financial challenges of building a new stadium as there is no need to invest in a permanent site.
---
Image: The Plug and Play Core concept features three main modular elements. Photo: Courtesy of Ballast Nedam.