The construction industry continues to be a hotbed of innovation, with activity driven by an increased focus on environmental sustainability and workplace safety, and the growing importance of technologies such as the Internet of Things (IoT) and robotics. In the last three years alone, there have been over 248,000 patents filed and granted in the construction industry, according to GlobalData's report on Innovation in Construction: Structure building framework.
However, not all innovations are equal and nor do they follow a constant upward trend. Instead, their evolution takes the form of an S-shaped curve that reflects their typical lifecycle from early emergence to accelerating adoption, before finally stabilising and reaching maturity.
Identifying where a particular innovation is on this journey, especially those that are in the emerging and accelerating stages, is essential for understanding their current level of adoption and the likely future trajectory and impact they will have.
80+ innovations will shape the construction industry
According to GlobalData's Technology Foresights, which plots the S-curve for the construction industry using innovation intensity models built on over 179,000 patents, there are 80+ innovation areas that will shape the future of the industry.
Within the emerging innovation stage, mullion-transom curtain walls are a disruptive technology that is in the early stages of application and should be tracked closely. Heat-insulated glazing panels, drainage gully grating, and acoustic ceiling panels are some of the accelerating innovation areas, where adoption has been steadily increasing. Among maturing innovation areas are abrasion-resistant decorative flooring and road construction milling tool, which are now well established in the industry.
Innovation S-curve for the construction industry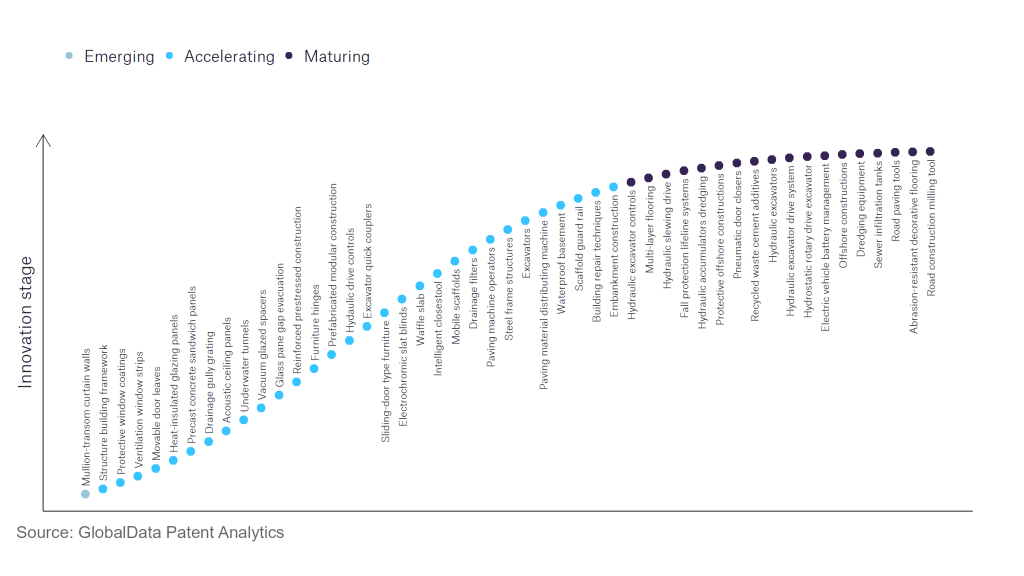 Structure building framework is a key innovation area in construction
Structural framework building zoning refers to the process of regulating the use and construction of buildings based on their structural framework or support system. This type of zoning is typically implemented to ensure the safety and stability of buildings by requiring certain types of structures or materials to be used in specific areas.
GlobalData's analysis also uncovers the companies at the forefront of each innovation area and assesses the potential reach and impact of their patenting activity across different applications and geographies. According to GlobalData, there are 110+ companies, spanning technology vendors, established construction companies, and up-and-coming start-ups engaged in the development and application of structure building framework.
Key players in structure building framework – a disruptive innovation in the construction industry
'Application diversity' measures the number of different applications identified for each relevant patent and broadly splits companies into either 'niche' or 'diversified' innovators.
'Geographic reach' refers to the number of different countries each relevant patent is registered in and reflects the breadth of geographic application intended, ranging from 'global' to 'local'.
Patent volumes related to structure building framework
Source: GlobalData Patent Analytics
The leading company in the structural framework building space is Compagnie de Saint-Gobain, which has recently filed a patent for an acoustic plaster-based board. The boards include a core made of plaster positioned between two coating layers, in which a textile including fibres of a thermoplastic polymer constitutes at least one of the coating layers. Conventional plaster-based boards are generally composite boards comprising a core made of plaster positioned between two coating layers made of paper or of cardboard. These new boards, however, have mechanical properties which meet the standards in force, in particular a good resistance to deflection under load. Other leading companies in this space include Gebr Knauff, Simpson Manufacturing, and Rockwool International.
In terms of application diversity, the leading companies are Louisiana-Pacific, Gerflor, and Rookwool International. In terms of geographic reach, the leading companies are Aspen Aerogels, Green James E, and Schindler.
To further understand the key themes and technologies disrupting the construction industry, access GlobalData's latest thematic research report on Construction.