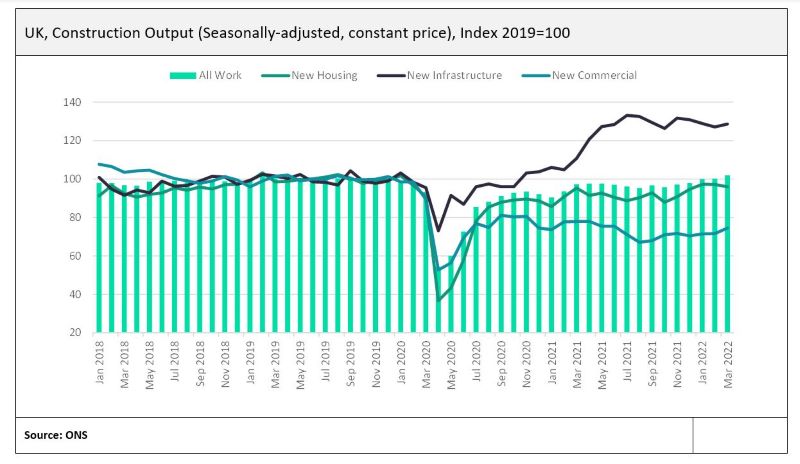 Construction output in the UK has continued to edge higher in recent quarters, having rebounded quickly in late 2020 following the slump in Q2 2020 when the country went into lockdown to contain the spread of Covid-19. In Q1 2022, construction output reached a record high, just surpassing the previous high set in Q1 2019 (in seasonally-adjusted constant prices terms). However, concerns are mounting over the surge in prices for key construction materials and energy, which is expected to constrain construction output growth in the coming quarters, along with an increasingly gloomy outlook for the UK economy.
According to the latest data published by the ONS, construction output was up by 7.4% year-on-year (YoY) and 3.8% quarter-on-quarter (QoQ) in January-March 2022 (in constant prices, seasonally-adjusted terms). New infrastructure construction work has been the key driver of overall construction output growth since the onset of the Covid-19 crisis, and had expanded by 19.5% YoY in Q1 2022. However, it eased back from the Q4 2021 level, dropping by 1.1%. In Q1 2022, new infrastructure accounted for 26% of all new construction work.
The residential construction sector has also continued to recover at a healthy rate, jumping by 6.9% YoY, and 6.1% QoQ in January-March 2022. However, the sector has yet to return to pre-Covid-19 levels, being 4.4% lower than the record high posted in Q3 2019. Residential repair and maintenance work has also been rising at a fast pace, growing by 6.6% YoY in Q1 2022, when it accounted for 18% of the total construction work in that quarter. The private commercial sector remains relatively sluggish, reflecting the slow recovery in investment in the sector. Although it was up by 2.1% QoQ in January-March 2022, it was down by 5.2% on a YoY basis and, when compared to pre-Covid-19 levels, it was still on the low side, being 28% lower than the level recorded in Q4 2019.
Although posting an impressive outturn in the first quarter of the year, the outlook for the UK's construction industry is mixed, with the ongoing recovery facing major downside risks, notably inflationary pressures and geopolitical and economic risks that are dampening investor confidence.
The recent performance suggests that the industry continues to generate growth momentum, and new orders in recent quarters have been high- in Q1 2022, new orders were up by 13.4% YoY. The country's construction industry will be supported by the execution and completion of projects outlined by the government in the National Infrastructure and Construction Pipeline 2021 report. According to which, more than £650 billion ($928.7 billion) has been set out for public and private infrastructure investment over the next ten years, with an estimated £400 billion ($571.5 billion) projects in the progressive pipeline, including more than £200 billion ($285.7 billion) worth of projects to be invested by 2024-2025. In addition, the report indicates that projects worth £127.2 billion ($181.7 billion) are in the active development and under construction phases, including those in the areas of transportation, energy and utilities, and communication developments.
Commercial construction is also expected to start to recover from the slump recorded in the past two years. Tourism and commercial activities are picking up and this, coupled with an increase in the total value of new orders from private office and entertainment construction, bodes well for the implementation of new investment plans. The residential sector is also expected to continue to expand.
GlobalData currently forecasts that construction output growth will stand at 3.4% in 2022 as a whole, which means that in constant prices terms, output will just be marginally below the 2019 level. However, the downside risks to the outlook have intensified, given the sharp increase in prices for key construction materials, supply chain bottlenecks, and higher energy costs. Investor confidence has also been impacted by the uncertainty over how Russia's invasion of Ukraine will unfold, and the Bank of England has been tightening monetary policy, raising the base rate in four successive meetings to 1% in May 2022. Its governor, Andrew Bailey, recently presented a gloomy outlook for the UK economy amid rising inflation and weak growth.