Canadian lumber prices soared in December 2021, with the price index for logs, pulpwood, natural rubber and other forestry products rising 4.1% in month-on-month (MoM) terms and in year-on-year (YoY) terms by 27.7%. Comparatively, excluding crude energy products, the Canadian raw materials index rose 0.4% from October and 18.5% over the year. Lumber prices over 2020 show a significant drop and rebound, surpassing pre-pandemic levels in November, rising 4.5% over the year. Lumber prices remained volatile in 2021, surging in the first half of the year and dropping 2.7% (MoM) in September and making a resurgence into the latter end of the year.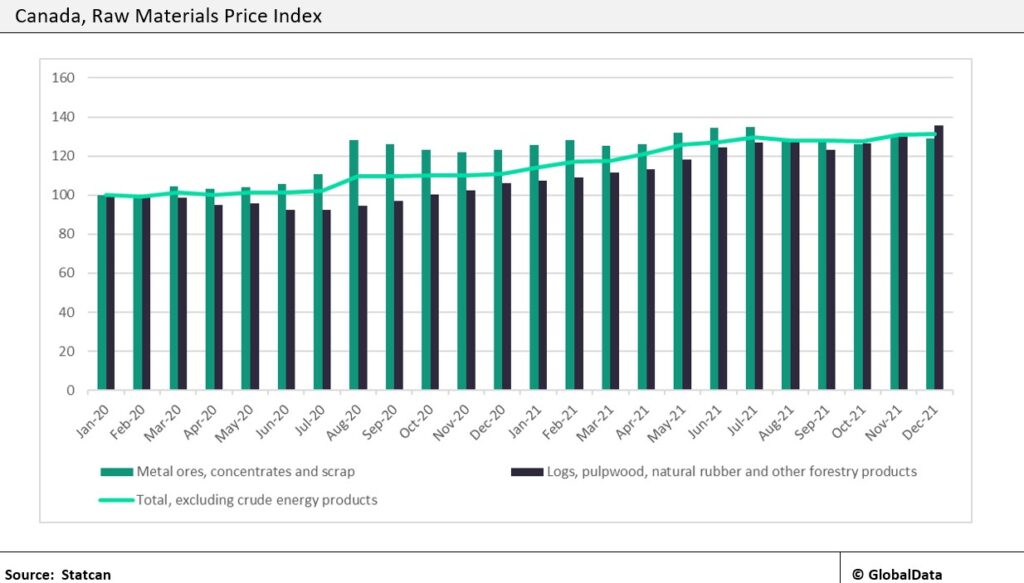 Price increases reflect the complex supply constraints lumber producers have faced over 2021 and persistent housing demand. Record levels of rainfall have caused major disruption in British Columbia as flooding and landslides swept through the region in November 2021. Rail networks used to transport lumber across the region were destroyed, consequently, lumber shipments have been delayed. Furthermore, labour shortages and wage hikes maintain a grip on productivity, as the lasting effects of Covid-19 have producers struggling to find skilled labour in mills and haulage. Longer-term environmental issues have come to fruition such as beetle infestations and persistent wildfires, which in turn has created a shortage of trees. Supply issues for lumber are unlikely to unravel into 2022, additional issues such as the truckers strike in late January will continue to put pressure on the supply chain and lumber prices. Homebuilders are suffering the consequences and passing cost hikes directly onto consumers.  Furthermore, price pressure is intensifying for home builders across the border after a longstanding trade dispute between the US and Canada has led to the US putting a 17.99% tariff on lumber imports.
Housing demand has remained resilient over the pandemic, bolstered by record-low benchmark interest rates and the shift to remote working. Although demand has seemly relaxed in 2022 and rate hikes on the horizon, the demand-supply gap for housing remains substantial and likely to hold pressure on the price of lumber.