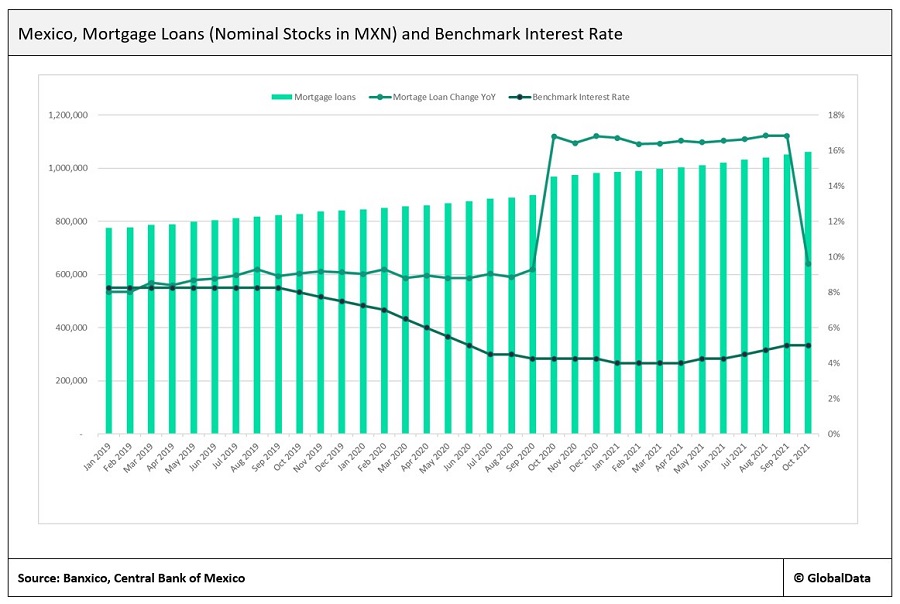 Throughout Latin America, central banks have taken a similar stance in response to the pandemic, gradually dropping interest rates in 2020 to stimulate growth, alleviate debt repayments and drive credit growth. Many Latin American central banks have, however, started to increase benchmark interest rates as inflation is exerting pressure on the economy. The Central Bank of Mexico (Banxico) was one of the first to act, raising interest rates last May. Last month, the benchmark interest rate stood at 5.5%. This increase in rates is a response to Mexico's rate of inflation, which stood at 7.4% as of November, surpassing Banxico's 3% target.
From September 2019 to April last year, Banxico gradually reduced the benchmark interest rate by 425bps from 8.25% to 4%. This reduction resulted in far cheaper credit and, combined with an excess of savings, expedited mortgage lending over this period. Year-on-year (YoY) growth in total mortgage credit by commercial banks increased from 9.3% in September 2020 to 16.8% the following month. Although partly owing to a low base effect, demand for better housing and home improvements, especially in the middle classes, combined with lower mortgage rates has driven the real estate market in Mexico throughout the pandemic. This has led to comparatively strong residential construction growth in Mexico, according to GlobalData; value-add in real estate activities grew by 3.0% in Q3 2021 and 4.4% in Q2 2021, preceded by growth rates of 0.3% in Q1 2021 and 0.6% in 2020. As Banxico has started monetary tightening, however, mortgage demand is likely to decelerate into this year.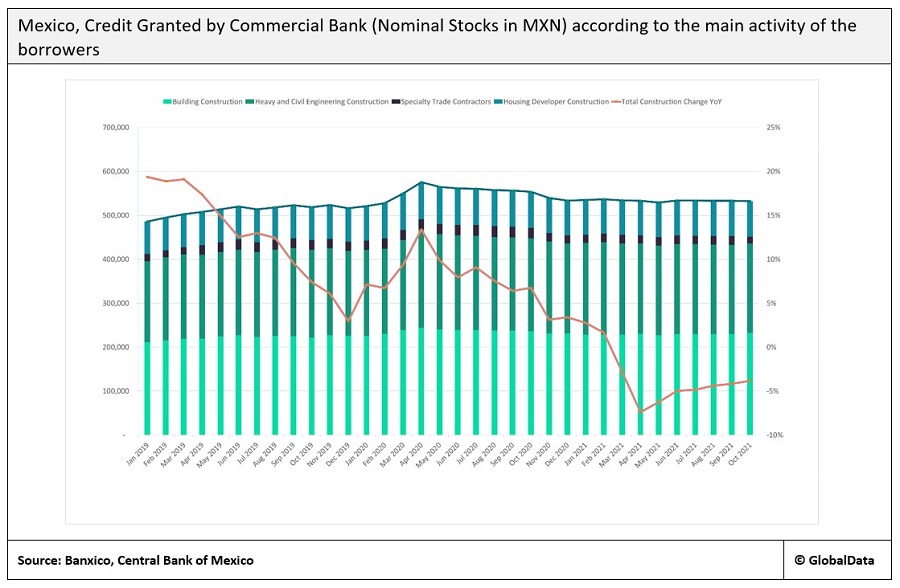 The commercial credit market in the construction industry shows a different story. In the pre-pandemic era, total construction commercial credit growth was strong, although decelerating as YoY growth fell from 20.1% in January 2019 to just 3.0% in December 2019. Conversely, at the start of the pandemic, commercial credit growth accelerated in the first four months of 2020, reaching 13.4% YoY growth in April 2020, as construction firms sought to secure credit lines to shore up cash positions to mitigate the effects of the pandemic. Despite this, accelerated credit growth was short-lived, as credit further decelerated to the point of contraction in April last year, which persisted until October. The credit growth is seemingly unaffected by the drop-in benchmark interest rates as the economic climate changes, with construction firms less confident to borrow given the uncertainty and stagnant growth. In addition, banks are being more stringent in the lending process. With interest rates on the rise, this will put further pressure on the already weak commercial credit market, in addition to increasing the cost of liabilities for construction firms, which will in turn put a strain on construction earnings.